One of your primary goals as an educator is to improve the knowledge retention of your students. This isn't an easy goal. Your students may have a lack of motivation, have difficulty concentrating on learning activities, or struggle to learn larger amounts of materials and actually remember it.
We here at Brainscape, makers of the most effective web and mobile flashcard app, have a solution for you: making flashcards as a class learning activity.
Flashcards are a great way to encourage active and collaborative learning among students, rather than passively studying. Making and using flashcards in your class is a great way to:
Get students actively involved in breaking down class material into bite-sized, manageable parts.
Keep students current with the material rather than falling behind.
Engage students through collaboration with classmates (making flashcards can be a fun, team activity).
[See our complete teacher's guide to using online flashcards in the classroom]
The last benefit mentioned above is especially useful for encouraging students to work together, making learning more active and interesting, and helping students remember class materials in the long-run.
In this article, we will share three tips for turning flashcards into a collaborative flashcard-creation lesson plan that many other teachers have found useful. And everything below can be done with a FREE Brainscape account for you and your students.
Using flashcards as learning activities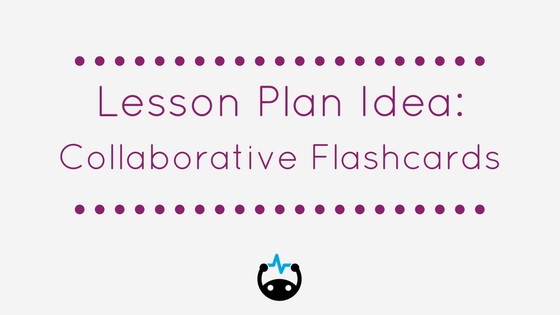 There are five main ways that teachers use Brainscape with their students:
Find ready-made flashcards created by other users for students;
Create flashcards for your students; and
Have your students collaborate to create the flashcards.
Scavenger Hunt: As the teacher, you purposefully place erroneous cards in the deck/class, then assign students to find them, and, using the "Suggest an Edit" button, they submit the corrected version to you for grading.
Peer Review: Assign each group a separate chapter to create 5-10 cards based on what they think is the most relevant info. Then share with another group for review of accuracy and importance
All five ways can help your students learn more effectively. In fact, we have a full guide on how to DOUBLE your students' retention of knowledge that you should definitely check out.
But the lesson we're focusing on here is for case 5—'crowdsourcing' flashcard-creation among your students. Many teachers have found this the perfect way to transform flashcards from a "drill & kill" exercise into a more collaborative and social experience (provided that they are comfortable with all students seeing each other's flashcards). Here's how flashcards can be used to encourage collaboration:
Students discuss and share how to break down knowledge into flashcard-sized chunks.
Students check each others' flashcards to ensure high quality.
Students test each other and compete for the highest scores.
The best part about this activity is that, by the end of the semester, all your students will have an entire set of student-generated adaptive learning flashcards to study in a web browser or on their mobile phone. And you will be able to easily track their study progress as they go!
Take these three steps to start using Brainscape flashcards in your learning activities:
Step 1. Set up your class
To begin, sign into your account at brainscape.com.
Click 'Create Class' on your main dashboard screen.
Name your Class (e.g. Biology 101).
Create an empty Deck of flashcards for each lesson (e.g. Chapter 1, Chapter 2, and so on).
Share the Class with your students (just click the Share button to pick a sharing option).
Step 2. Coordinate flashcard creation
While still in your Class on the main dashboard screen, click the Learners tab to see who has joined your Class and to manage editing rights.
In a class announcement, assign flashcard-creation duties to your students throughout the semester. (e.g. Mary and John work on Chapter 1 together, Billy and Sue work on Chapter 2, etc.)
After each lesson, encourage students to create flashcards according to the new material, review the student-created flashcards, edit them as necessary, and reward course credit for satisfactory completion.
[See our complete guide to making & studying flashcards online]
Step 3. Monitor your students' study progress
As soon as any flashcards have been edited and approved, all students will immediately be able to study them, either using a web browser or the Brainscape iPhone, iPad, or Android app.
You can track student activity by revisiting the See All Learners screen. You can choose to sort students according to either their Cards Studied or by Mastery percentage.

We hope this helps you create a collaborative and motivating learning atmosphere in the classroom using Brainscape.
Best of luck!