A rigid study schedule? Do you really have to be that type of anal person to do well on the MCAT? The answer is yes.
At Brainscape, we're the developers of the world's most effective MCAT study app, and we're passionate about optimizing the learning process and sharing techniques that help students excel. Managing your time well with a study schedule is one of them.
In our last article for premed students, we talked about the importance of setting up a good MCAT study group. Once you've gotten your study group together, you now need to figure out what to do! Not only with your group but also how to balance your independent study with everything else that's going on in your life.
To that end, you'll need to develop a study plan. When putting your plan together, keep these three general principles in mind:
Balance your time between content studying and timed practice.
Be conservative with your goals.
Build in LOTS of time to review your work.
A brief overview of the MCAT
Before we jump into the juicy stuff, let's brush up on some MCAT general knowledge. After all, how can you create a study plan without the key facts?
What is the MCAT? If you want to go to medical school (in the U.S. or Canada), you'll probably need a Medical College Admission Test or MCAT. It's a standardized test that will partially determine your placement. Fun.
What is the structure? We have good news and bad news. The bad news is that the entire test is multiple choice. The good news, therefore, is that there are no written sections. Score! You'll be tested on how quickly and accurately you can answer questions. Plus, they'll be sneaking in some measures for critical thinking, problem solving, and knowledge on natural and behavioral science
How much does it cost and how do I register for it? The MCAT costs somewhere between $310 and $365, depending on how late you register. Speaking of register, all you have to do to take the MCAT is create an account with AAMC (the test developers) using this link. After that, it's a matter of picking the date and time.
Are you ready to study (or as ready as you'll ever be)? Let's take a look at each of the principles of a great MCAT study schedule.
Principle 1: Balance different methods
First, your study plan needs to be balanced. One very common mistake we see students make is over-emphasizing one aspect of prep and giving short shrift to others. Good MCAT prep is an equal mix of content review, timed simulation, and passage practice. Let's dive into it.
Step 1: Review your content
For content review, you should be studying from several different resources to give your brain exposure to the material in different modalities. We typically recommend that students study MCAT content using a combination of online flashcards, an MCAT review books, and videos.
Your best bets here would be Brainscape's digital MCAT flashcards and the MCAT videos from Khan Academy (an amazing free resource). The mix of resources will engage your brain and solidify your learning.
Step 2: Learn the content
Once you've put together a list of resources to learn the material, you should aim to efficiently memorize it.
Research has shown vastly improved retention when students come back and review material more than once, and when they do so after having time to sleep. It's during that REM and deep non-REM sleep that your brain consolidates long-term memories. So study a chapter from your book, then do some flashcards on that same topic. Go work on something else, get a good night's sleep, and come back to it the next day. Quickly re-skim the chapter, re-do your flashcards, and sum it all up by watching the Khan Academy video on that topic.
Brainscape's flashcards are especially easy to build into any study schedule, so you can efficiently review content. Why is this method so efficient?
First, Brainscape flashcards use spaced repetition to facilitate your learning. This system repeats information in such a way that you see less well-known material more than the material you've mastered. This ensures that you onboard new knowledge quicker and more efficiently.
Second, our app makes it easy to knock out a five-minute study round wherever you are. Simply keep the website open on your browser or the app open on your phone so all you have to do is flick it open and pick up where you left off.
Third, you can see how much time you still need to learn set of flashcards. After every 10-flashcard round, users hit a checkpoint screen that shows them how far they have progressed through the study material and updated estimate of how much study time you have left to reach 100% mastery.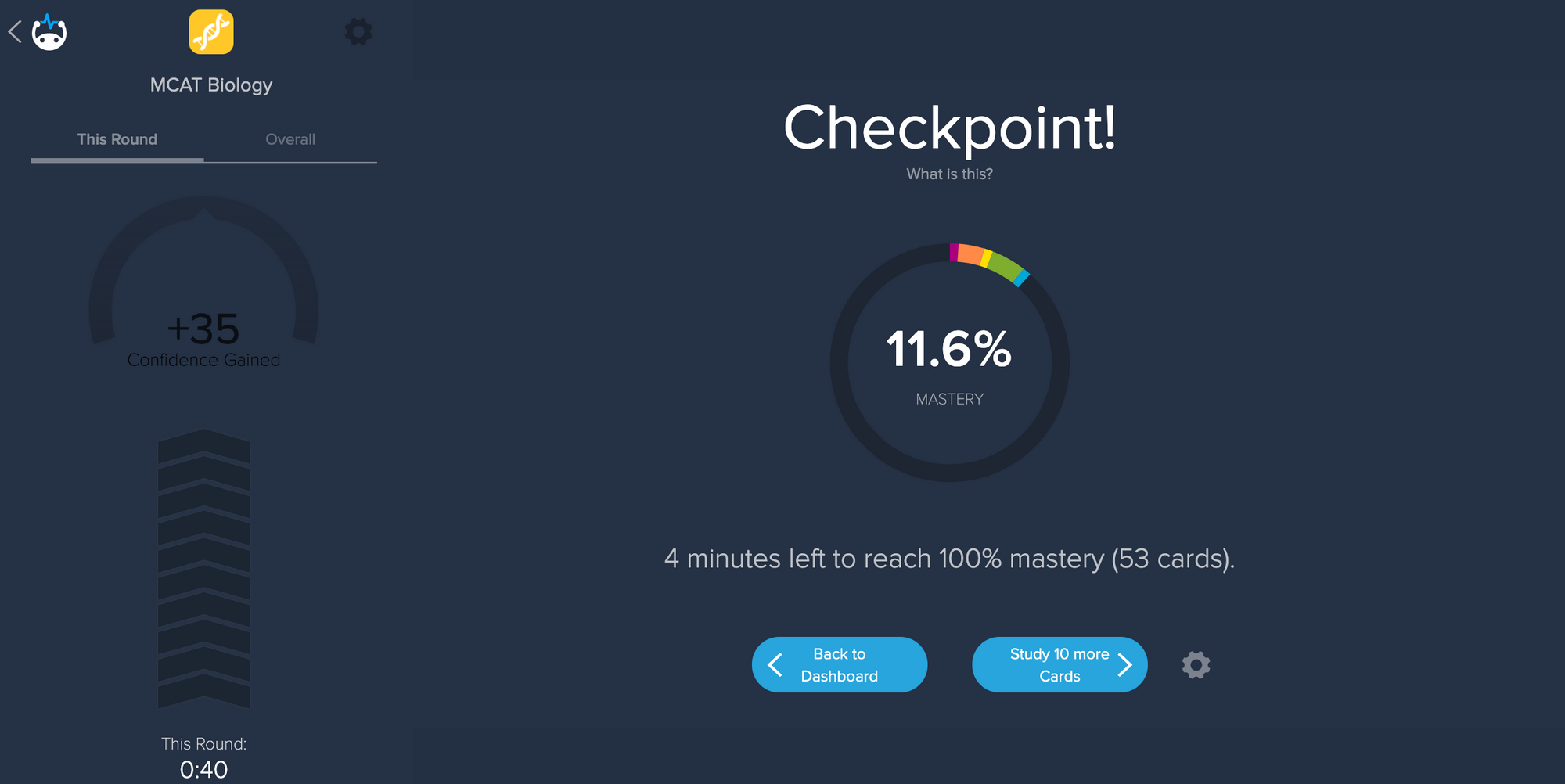 Step 3: Practice using passage practice
After building out your content review, giving yourself two days to do each chapter from your review books, you'll need to build in time to do practice passages. Knowing all the MCAT content in the world won't help if you don't practice applying it on those tricky MCAT passages. As a general matter, you should be doing one or two MCAT verbal passages every single day. The Critical Analysis and Reasoning Skills (CARS) section of the test is, by far, the hardest to improve on.
For science practice, you should do at least one or two practice passages on each topic you review. Do them on the second day of reviewing a chapter, after having read the chapter once, practiced the relevant flashcards, and watched the appropriate Khan Academy video. If you hit trouble with the practice passage, then go back and re-review the relevant content.
Where do you get your practice passages? Typically, MCAT prep books will come with a practice passage at the end of each chapter (note that while Next Step, ExamKrackers, and Princeton Review's books all come with such end-of-chapter passages, the Kaplan MCAT books have no practice passages in them at the time of this writing).
Putting together a full suite of resources is a daunting task, but once done you're most of the way there. Next, you should keep the other two principles in mind.
Principle 2: Set reasonable goals
Be conservative with your goals! Build an MCAT study schedule that only includes ~75% of what you think you're capable of. You're much better off planning to complete three chapters, and then finding out you're able to get through four, rather than the reverse. Setting cautious goals helps ensure that you'll actually achieve them and can help build up momentum and enthusiasm as you exceed them.
Conversely, setting overly ambitious goals and then failing to meet them is a fast way to develop frustration and burnout. As a general rule, I tell students who are doing MCAT prep full time to plan out three 2-hour study sessions for six days a week and then take one day off each week.
Six hours may not sound like a full schedule if you're used to working an 8-10 hour day full time. But remember that the MCAT is a marathon, not a sprint. If you do three smaller chunks of studying spaced throughout the day, rather than a non-stop slog of 12 hours of studying, you're vastly more likely to stick to your study schedule and to actually learn what you're studying.
Principle 3: The importance of review
Finally, the most common mistake I see students make in their MCAT prep is failing to build in enough time to review their practice. You can read on Student Doctor and other online forums about people who like to brag "oh I took a full length every single day for weeks" or some such nonsense.
To really learn from your practice, you should be spacing your full length exams out to once a week (at most!) or even once every other week. After taking a full practice MCAT, allocate anywhere from six to twelve hours to review the exam. You need to go question by question through your work, learning from every single problem—not just the handful of tricky ones that you struggled with.
Again, we cannot emphasize this enough. After completing a practice passage or a practice full length exam, carefully review every. single. question. Allocate something like 1.5x as much time to review your practice as it took to do the practice itself.
Adding it all up to build a successful MCAT study plan
So, to build a successful MCAT study schedule, follow these general rules:
Spaced repetition and multiple modalities for content review
Daily practice on MCAT passages
Weekly online full lengths, with an entire day to review them
Set conservative goals that you can easily meet or exceed
What's next? How to manage stress!
That growing list of to do's and filled in study schedule could look and feel stressful for anyone. Once you're actually in the thick of your MCAT prep, it can be easy to let that stress overwhelm you. Find out what you can do to manage your MCAT stress in our next article!