Few phenomena have changed digital media this decade as much as cards have.
As Robert Fan wrote earlier this year, the advent of the mobile "card" is slowly transforming nearly every consumer web and mobile industry on the planet. There's simply something so darn consumable about the combination of text, images, video, audio, meta tags, likes, shares, and comments into a single unit of meaning.
At the same time that they're changing everything else, cards—and specifically online flashcards—are revolutionizing learning.
In this article, we'll explain why online flashcards are the future of studying and are an important remote teaching resource.
"Cardification" of everything
We've recently seen a huge influx of card-based products. These include everything from Tinder (dating), SlideShare (corporate white papers), Twitter (microblogging), Instagram (photos), Pinterest (pinboards), TikTok (swipable mini-videos), and Google Now (real-time personalized information). These products have enriched millions of lives while creating billions of dollars of investor wealth.
But one market that is only just beginning to be transformed by cards is Education. Brainscape predicts that online flashcards will be among the most important disruptors of Education for the next millennium.
Online flashcards in education
Online flashcards, like those in Brainscape, are now able to accomplish so much more than the dreaded paper flashcard has ever offered to us.
Rather than being "drill & kill" devices that simply allow us to memorize trivial facts, today's digital flashcards can support any type of media, of any length, of any level of interactivity, on any web or mobile device, in conjunction with any type of broader educational setting.
Online flashcards can also be made adaptive, so that they are automatically repeated in intervals that are customized for the learner's own pace of personalized learning.
Brainscape takes this to the next level. We build in principles of cognitive science to optimize learning from digital and online flashcards. We combine the effectiveness of active recall with metacognition and spaced repetition to accelerate memory retention. The result is the most effective study and learning tool that you'll find online.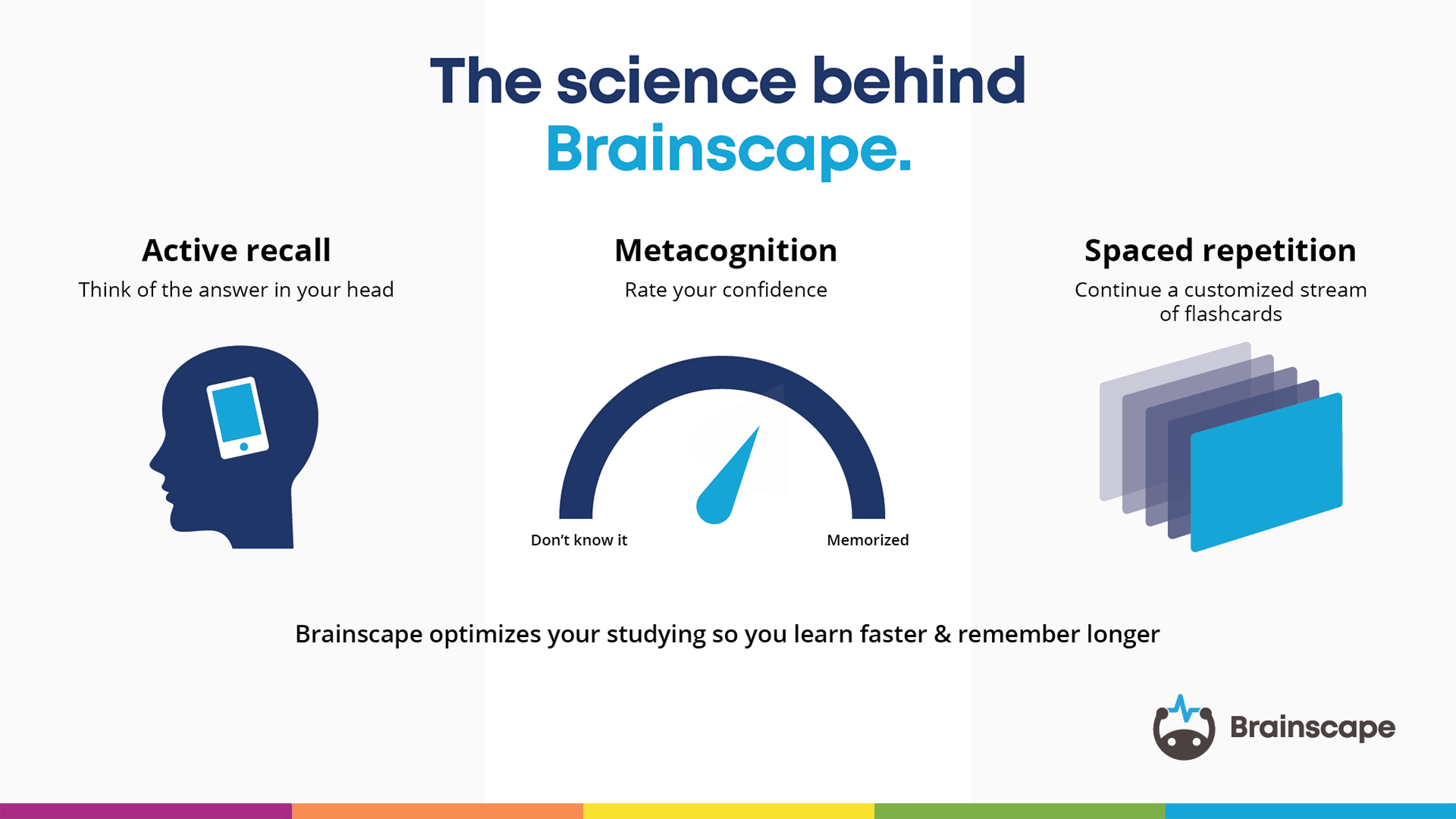 [Use Brainscape now to advance your studying.]
Online flashcards and the future of studying
For the next millennium, the word "flashcard" does not have to mean "trivial fact" or "vocab memorization", but rather, it can mean "the smallest unit of knowledge that can be efficiently studied, shared, or tied across various curricula." You'd be surprised at the thousands of ways that educators have been able to transform rich media into bite-sized question & answer retrieval practice.
Brainscape is proud to have entered this new industry of mobile study tools. We realize that so much of the permanent solidification of knowledge happens during the study process, and we are committed to creating the most effective flashcard-based study experience for both students and teachers alike. Brainscape is quickly emerging as the web & mobile study tool used by serious learners.
In contrast to websites like Quizlet, which have successfully created vocab-based flashcards and games to make learning more fun, Brainscape has applied decades of cognitive science research to improve learning outcomes for large learning objectives over the course of a lot of time.
Brainscape's multimedia flashcards use a smart, adaptive algorithm to optimize students' pace of learning, while providing teachers and administrators with detailed reports on students' study progress. The future of education is data-driven after all.
More importantly, flashcards can be easily integrated into larger "real-world" instructional formats. You can link to your flashcards from any other website or learning management system so that they can represent the ultimate supplementary resource to your curriculum.
The FREE Brainscape marketplace already contains well-organized flashcard curricula for over 1 million subjects, created by the world's best publishers, professors, teachers, and top students.
So keep using Brainscape if you're interested in helping advance your studies (or your students' studies) through innovative technology!