Nowadays, there's an app for everything, from work, time management, and dating to tracking your own bodily functions, like sleep, eating, exercise, and, well, other things. Naturally, of course, there are also a smorgasbord of apps for language learning, which we wrote about in our guide: 'The best way to learn a language—your complete toolkit'.
However, in an effort to tailor our recommendations to those of you who are specifically learning to speak French, we thought we'd put together a separate list, and here we are! So if you're on the hunt for the best apps to learn French (for beginners), you're in the right place!
On y va!
Pssst ... don't forget to read our definitive Academy guide on how to learn French more efficiently.
The best apps for learning French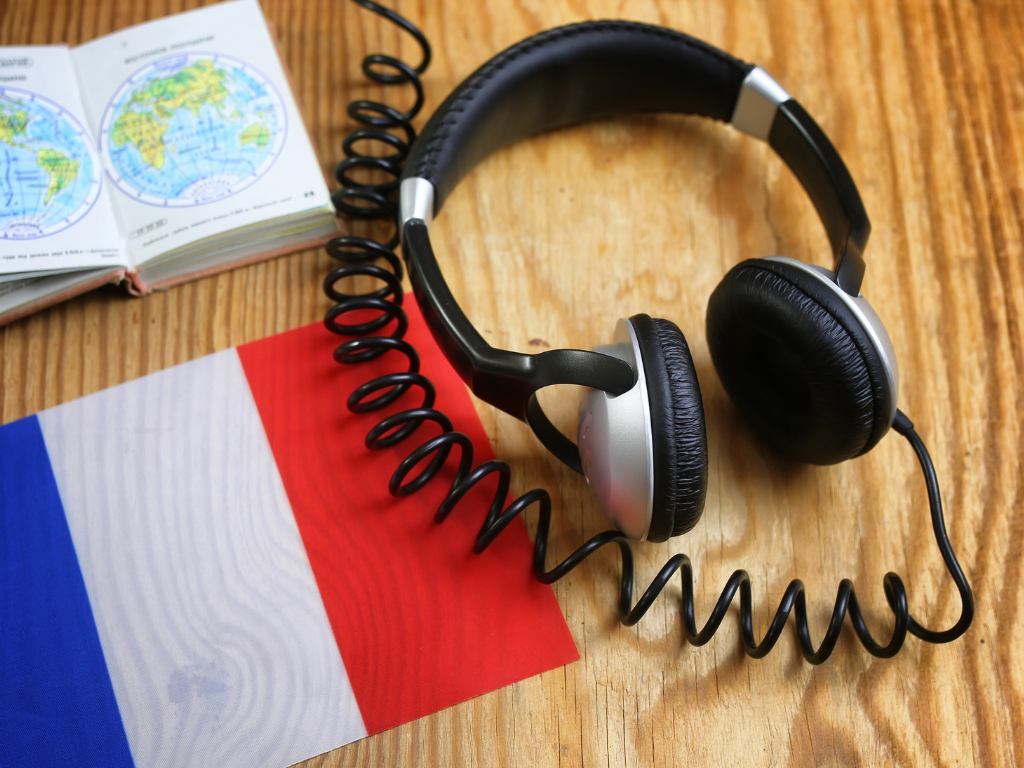 1. Brainscape certified French flashcards
Naturally, we're a little biased but we really do believe we have the best supplementary study tool for mastering the French language!
Brainscape's collection of adaptive French flashcards is the most effective way to drill yourself on the essential building blocks of the language, from vocabulary and verb conjugations to numbers, commonly-used phrases, and more. Each flashcard even contains an audio file of the correct pronunciation, so you can get it right from the beginning.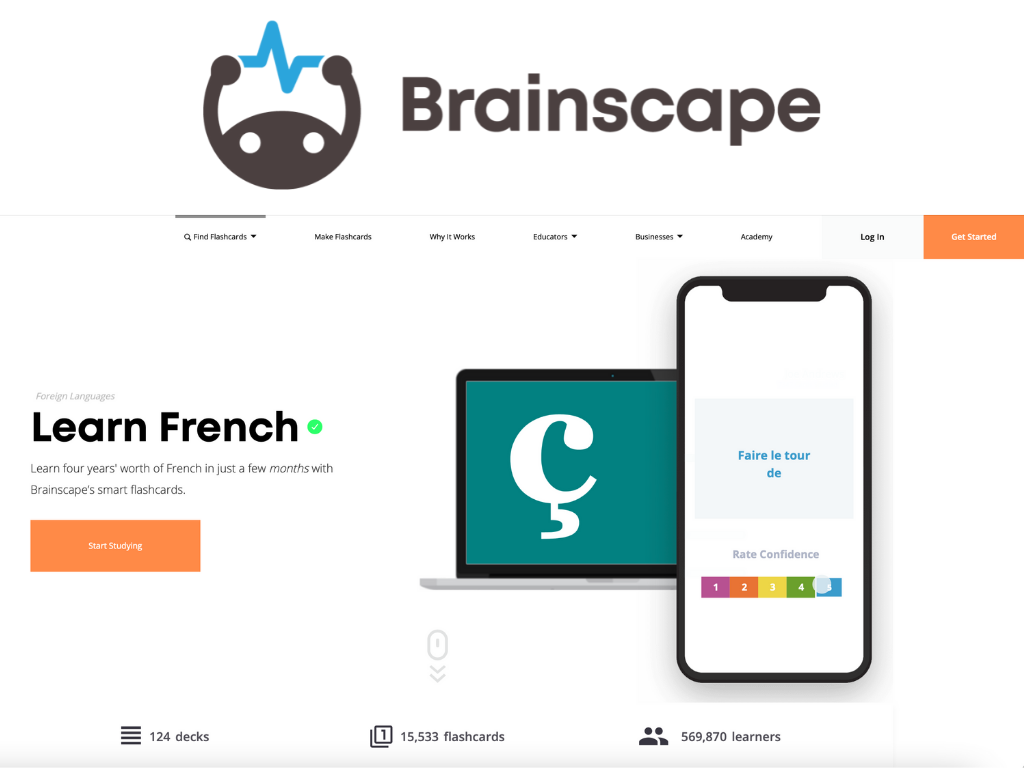 Brainscape's certified French flashcard collection also includes a Sentence Builder component that allows you to build up your mastery of grammar through the constant translation of increasingly advanced sentences (with each card supplemented by a grammatical explanation). And we've added flashcard decks for listening comprehension, French history, and pop culture.
With its sophisticated spaced repetition algorithm, expert-curated content, and the ability to study anywhere, anytime, and with any device (even offline), Brainscape really is the best way to learn French more efficiently.
2. Duolingo French language app
If a gameified learning experience is more your speed, Duolingo is a great app to learn French. With this free, fun, and easy-to-use language app, you can learn vocabulary, conjugation, reading, writing, pronunciation, and listening skills on the app in a way that is competitive and fun.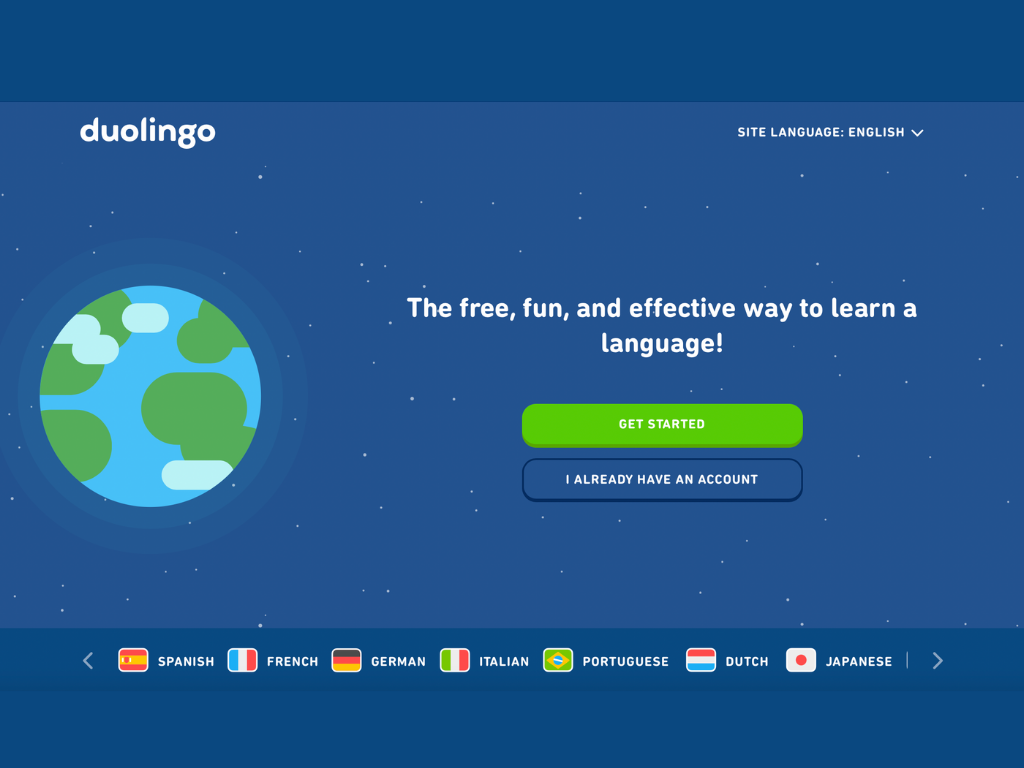 Just be aware that while Duolingo may be fun, making learning a competition (with prize badges and everything!), the app isn't all-that-great for really learning grammar or retaining what you learn. It's great for casual learners just starting out, but if you really want to drill yourself hard on French, and learn efficiently, you'll need to supplement Duolingo with other French language practice.
3. Learn French with Busuu
Busuu is a French learning app with more functionality than Duolingo. While it has similar French practice activities as Duolingo, it also has a great community, allowing you to connect with native French speakers and vice versa. It also allows you to specify the purpose of learning your chosen language (business or tourism) and this ability to customize the app makes it better than Duolingo in certain ways.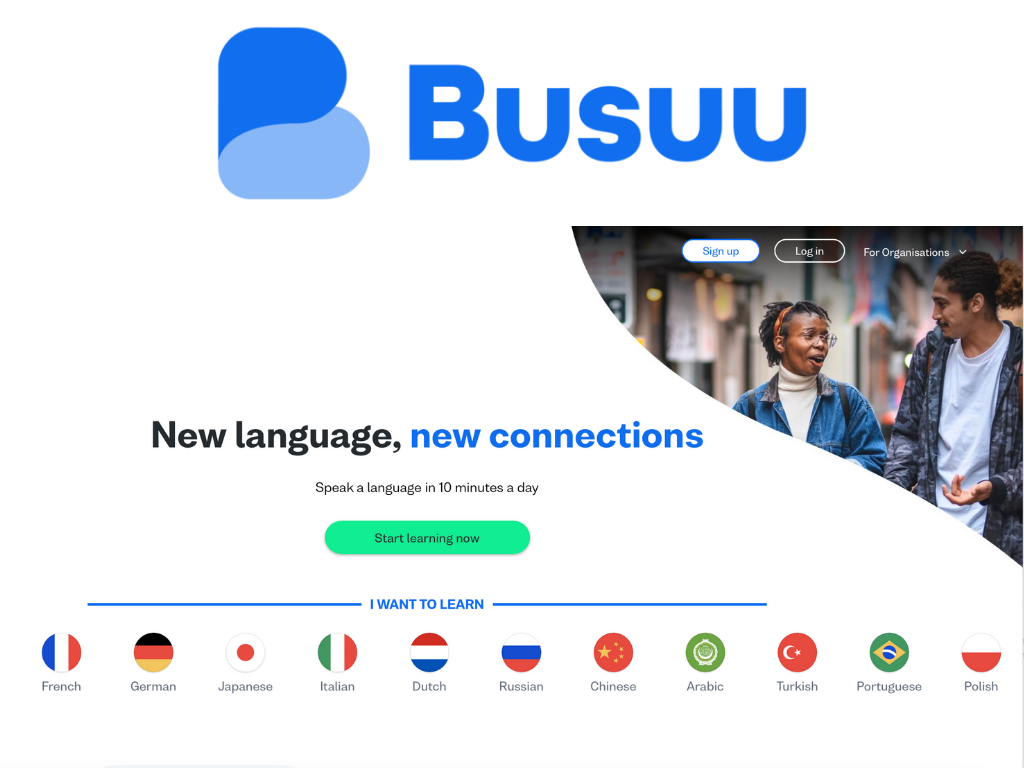 While Busuu's program is more comprehensive than Duolingo's, it's also more expensive. You can start using the app for free, but for the real features, including speaking with native speakers and more advanced activities, you need to purchase a membership.
Another downside is that it focuses mainly on grammar exercises and traditional ways of teaching French, whereas Brainscape applies cognitive science principles to helping students to learn languages way more efficiently.
Having said this, Busuu can be useful, particularly for beginners and for those who want the option to interact with native speakers.
4. Classics2Go Collection (French)
Reading in a language you are trying to learn is a must. That's why the free French Classics2Go Collection app is so great: it has a large selection of fairy tales and other simple, classic children's stories that you can read at an early stage in your French learning.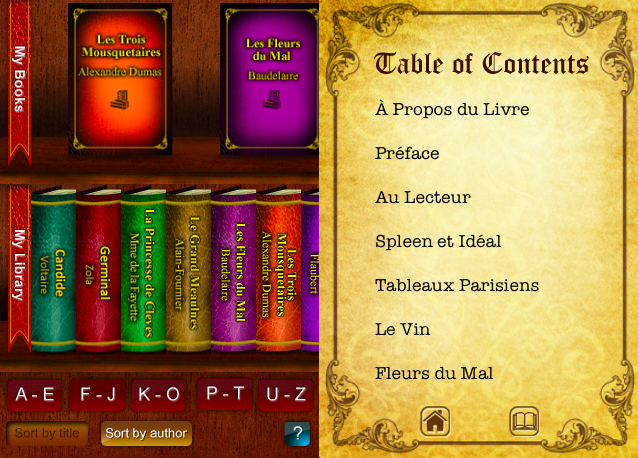 Not only are these stories familiar, which makes it easy to absorb new vocabulary and grammar concepts, but Classics2Go even cross-links with its English app so you can read the versions side-by-side for a refresher. Plus, once you are becmoing more fluent, you can easily explore the library for some more complex books like Les Trois Mousquetaires or Madame Bovary.
This app is perfect for those that are looking for manageable reading material to practice their French on. It's not a substitute for apps that actually teach the language but it's a good addition to your French learning app set.
5. French Translator Dictionary +
Any language-learner needs a solid dictionary companion to aid their learning and study tools. And as much as we love Google Translate, it's not always reliable for the real meanings of words, particularly for slang and colloquialisms.
Our favorite French translation tool is French Translator Dictionary + by Vidalingua. The Translator provides accurate phrase translations that you can "star" (or tag) for offline viewing. It also includes a Dictionary feature that provides heaps of translations and examples for headwords, slang, and regional words.
Even better, you can tap on pretty much anything to hear it pronounced at the speed and in the accent you select!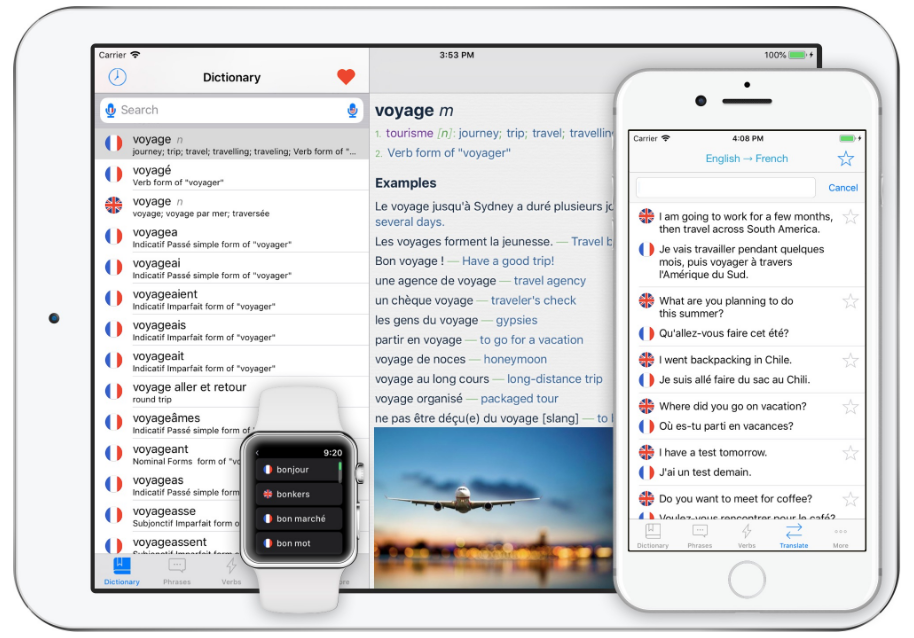 French Translator Dictionary + also includes a verb conjugator with over 400,000 verb forms, as well as quizzes and flashcards to help you build your vocabulary. This app is ideal for anyone: students who want to pass French, travellers wanting to communicate better, expats preparing for a date, or anyone follow a French recipe in their kitchen.
[Funny story, you might already be a little bit fluent in French! Check out: 'The top 25 French words used in English']
6. Le Conjugueur French language app
To say that French verb conjugations are tricky is a massive understatement. If you ever learned it in school, you might remember being terrified by the French language grammar reference book Bescherelle. That's what makes Le Conjugueur so helpful: it's comprehensive without being overwhelming.
This is a really useful app for learning French grammar and conjugations; it allows you to practice translating verbs and identifying the appropriate tenses to use in different scenarios. Again, it's not going to teach you French, but it's a really effective reference tool, which you can use supplement your verb practice.
7. Rosetta Stone language app
It's almost impossible to talk about language learning without mentioning Rosetta Stone. Not only has Rosetta Stone's app been around for ages, but it also offers a balanced approach with plenty of speaking, writing, and reading practice for each skill level.
Rosetta Stone offers a completely immersive language learning experience, which means that you won't find any English in this app. This has its advantages (such as learning like you would as a child), but it can be frustrating or even ineffective for some new learners, so think about whether or not this would work for you before committing. There are also some criticisms of not using your mother tongue to learn a new language.
Another downside is the cost—a whopping $179.99 for lifetime membership, which includes all the features. However, there is a 3-day free trial, so you can try it and see if it's the best app for you to Learn French.
8. Spotify
You might think of Spotify as an app for streaming music, but it's also one of the best French language learning apps. Why? Because it gives you access to unlimited French listening texts! We're talking of course about French music and podcasts, which is a great way to tune your ear into spoken, conversational French.
There are musical classics, like Edith Piaf, but there are also amazing modern artists like Carla Bruni, Angèle, and Jérémy Frerot. You can find all the lyrics on YouTube or on sites like Lyrics Playground.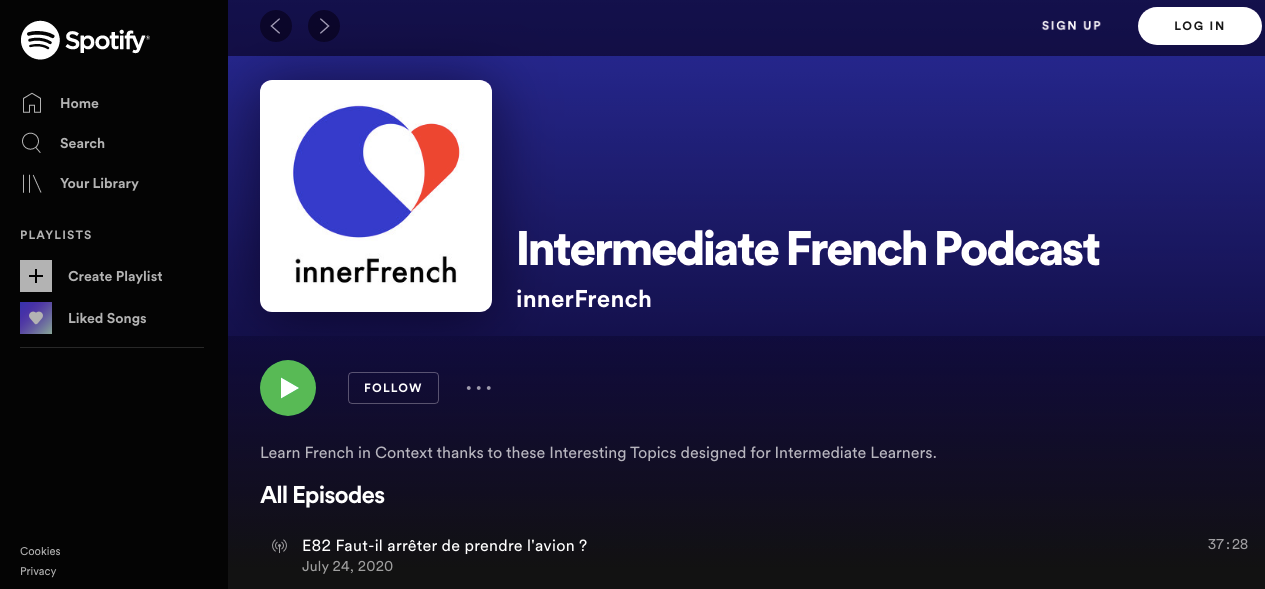 Spotify can also connect you with thousands of podcasts in French at all levels. Podcasts are a great way to learn a language and you can find them on just about any conceivable subject under the sun.
One of our favorites for beginners is Learn French by Podcast. They mix in both French and English to help you learn. If you're at a more intermediate level, try Inner French. The host, Hugo, speaks about all kinds of different subjects that you'll be interested in if you want to learn about French culture. He speaks only in French, but he speaks clearly and a bit more slowly than usual.
Just remember: Spotify by itself won't teach you French, but it will provide you with all the listening practice you could ever want.
9. Tandem French language learning app
One of the most difficult things about learning French is finding someone to speak it with. (Not all of us are living our best life picking grapes at a vineyard in Reims or working at a small start-up in Bourdeaux.)
Tandem, however, is the solution. It's a language learning community, which you can join, select a preferred language, and then find a conversation partner. For example, you might look for a native French speaker who is learning English. Then you chat with them, helping them with their English while they help you with your French.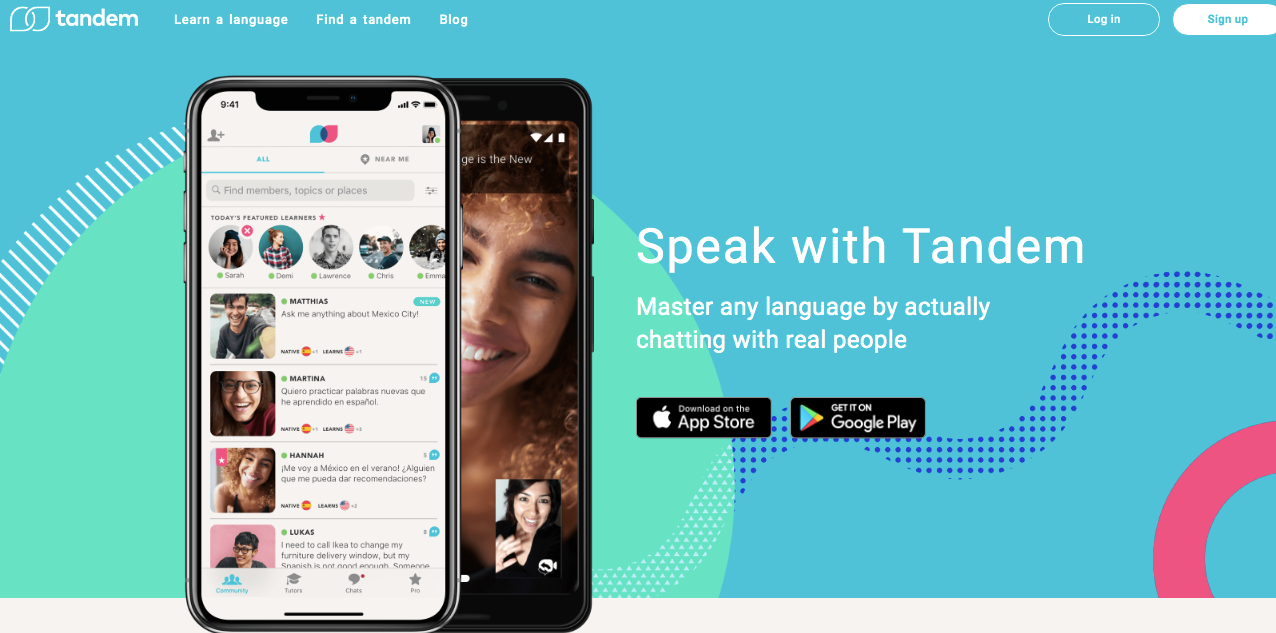 We love how easy Tandem makes it to find a language partner. And it's free!
A final note on the best apps to learn French
None of the apps we've talked about in this guide are, on their own, the best app to learn French—they're all good in their own way. While we are, of course, partial to Brainscape's adaptive French flashcard (because we know how effective and efficient they are), using a combination of these apps—and making that practice a regular study habit—is going to support your learning the most.
For example, you could use Brainscape to drill yourself on French vocab, verb conjugations, commonly-used phrases, and pronunciation; French Translator Dictionary + to practice your reading skills; and Tandem to practice your conversational French on a language partner.
Together, these French learning apps can get you well on your way to speaking tout suite!
For more excellent and helpful language-learning resources, check out Brainscape's comprehensive guide on how to learn French more efficiently and the best way to learn a language⁠ online—your complete toolkit.