Of all the skills that are crucial for young kids, language is the most important. Letters unlock words and words unlock communication: the ability to connect with their parents, teachers, peers, and the greater world around them. It's basically a biological imperative!
And so one of the most valuable investments you can make as a parent with kids in preschool (or about to embark upon their schooling), is to teach them the fundamentals of language.
Read: 'What do kids need to know before kindergarten?'
To help you do this, the team here at Brainscape—the world's smartest study app—put together a toolbox of the best language apps for preschoolers. The reason we love these language learning apps is because they provide a structured, yet entertaining and effective way for kids to learn the building blocks of language (letters, words, pronunciation), while engaging them with stories and characters, thereby imbuing them with love of reading.
(Make sure you stay tuned until the end for a free library of really helpful resources on guiding your kid's education!)
So with that said, let's go!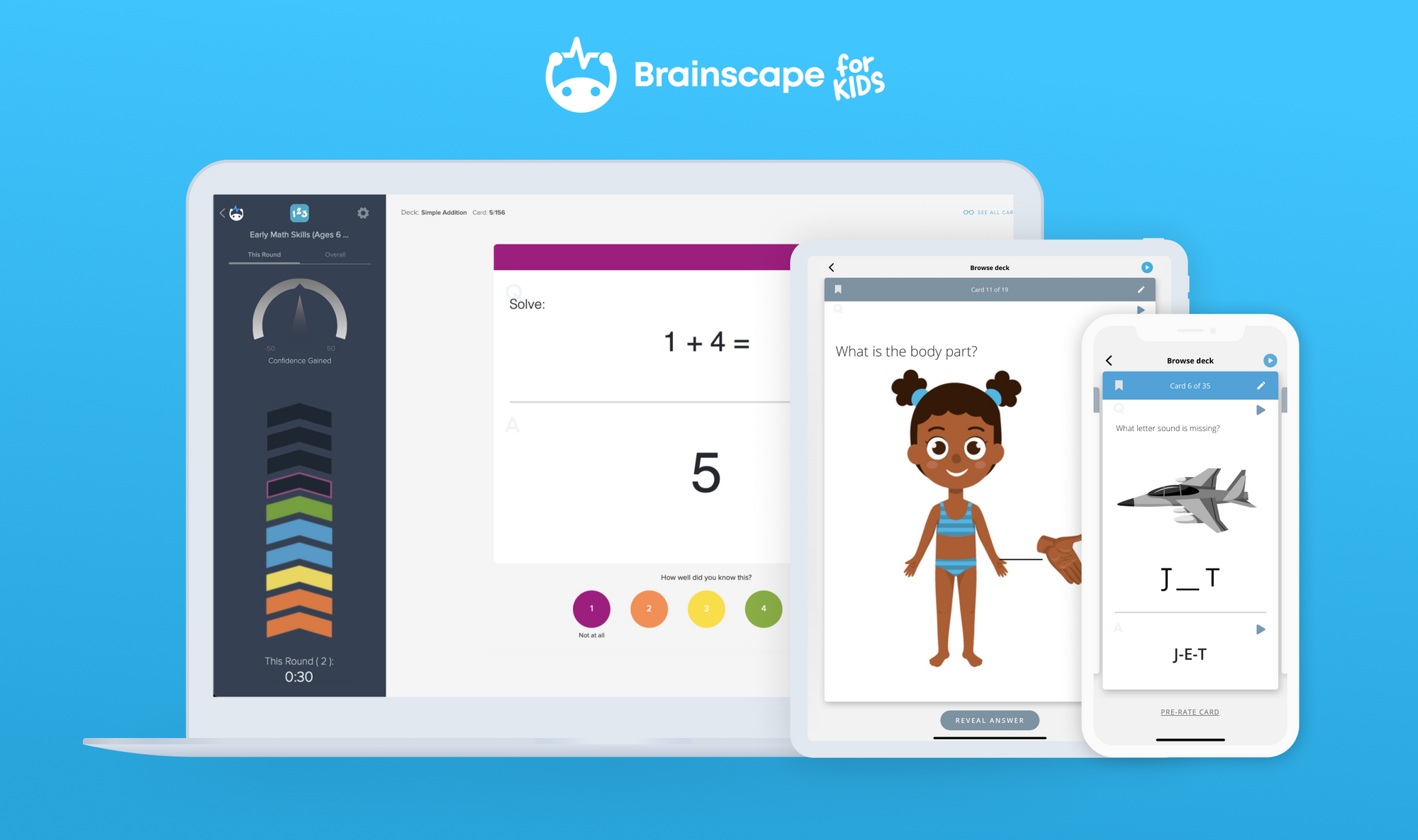 Brainscape's early childhood education app is one of the most effective language learning apps for young kids aged 3 to 9. We've worked with experts in the early childhood education to distill down the complete recommended curriculum for preschoolers into a collection of engaging adaptive flashcards for reading skills (letter names and IDs, sight words, sounding out words, alliteration, and rhyming); "Things Around Me" (common objects, animals, people, places, weather, anatomy, and emotions); and so much more.
(We also have an entire collection of flashcards for math and counting.)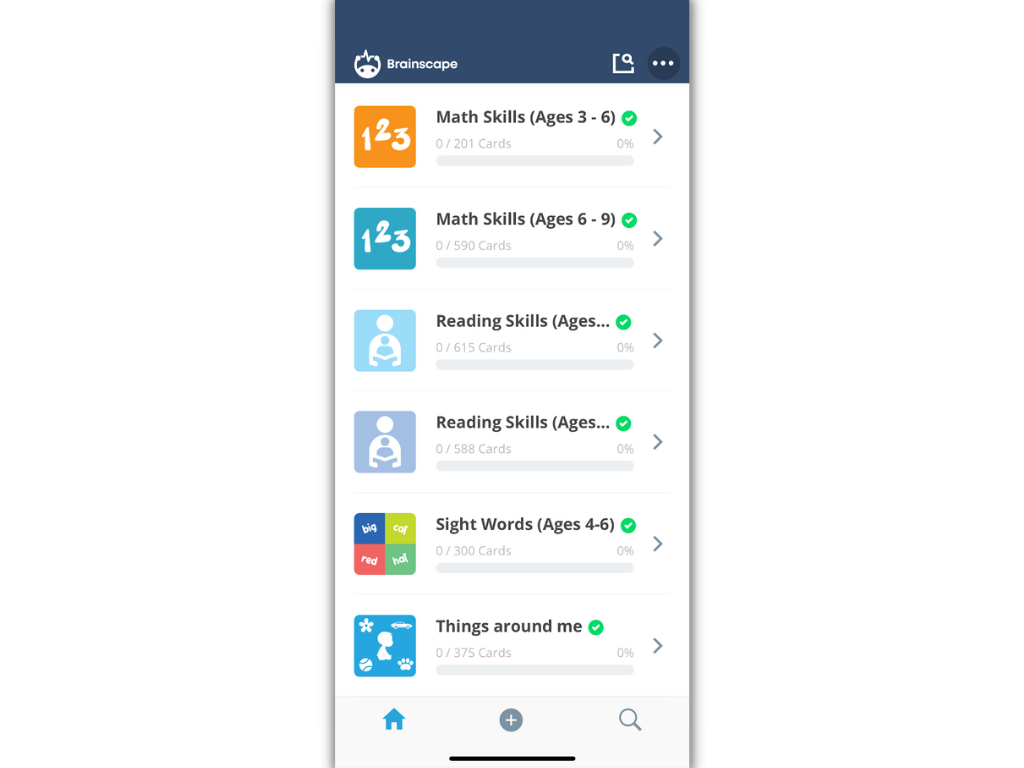 Brainscape's language learning app for kids is based upon decades of cognitive science research into how the brain is fundamentally hardwired to learn. In fact, our spaced repetition learning algorithm is scientifically proven to help your kids learn TWICE as fast as any other method. Read about the complete cognitive science of Brainscape!
How these flashcards work is simple. With your child, open Brainscape on any device, select a class and a deck of flashcards to practice. The question side of the first flashcard will pop up with some kind of prompt, like the following …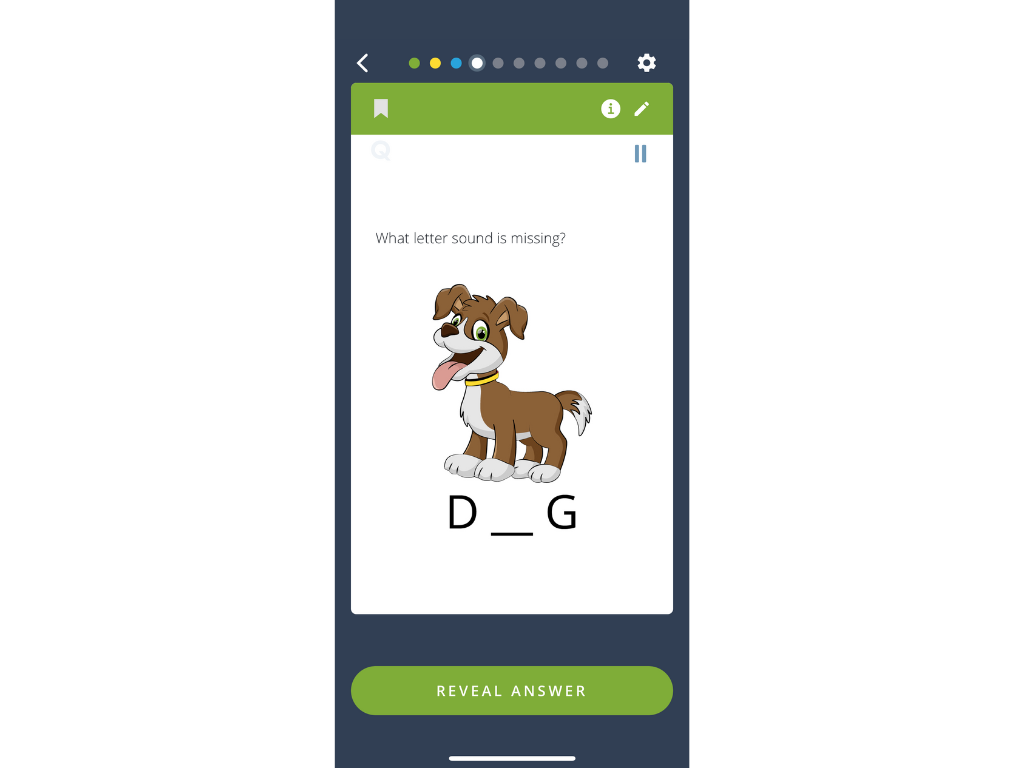 Encourage your kid to answer the question from scratch, then turn over the flashcard to reveal the answer.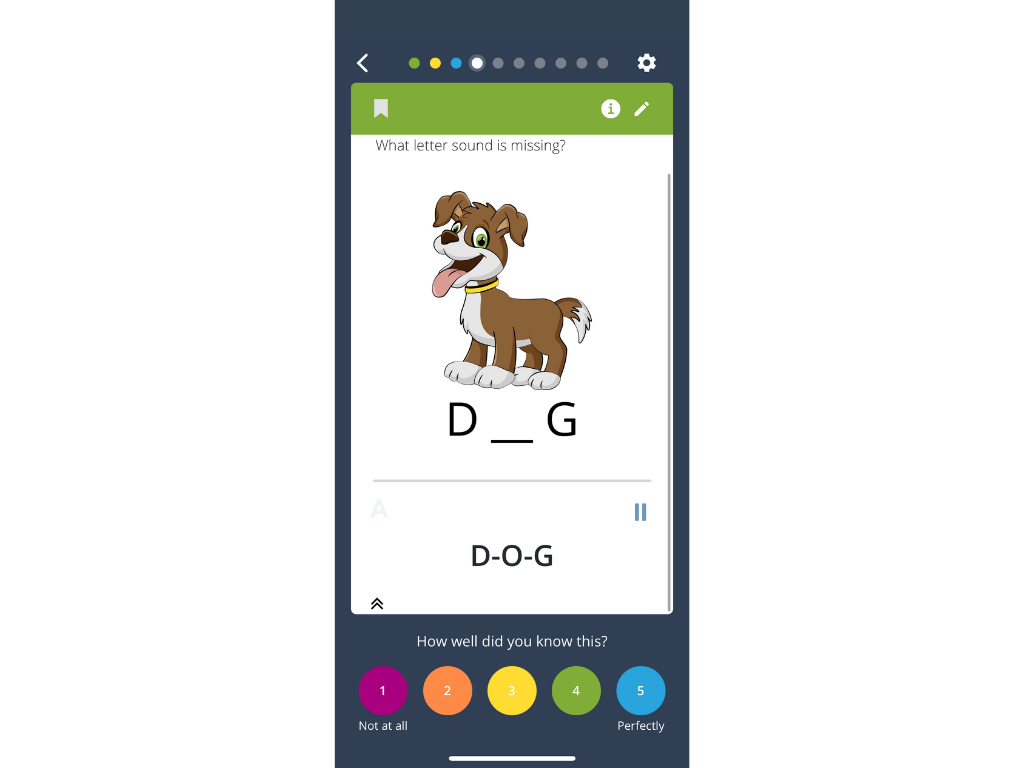 Now comes an important step: you need to rate how well your kid knows the answer on our scale of 1 to 5 with 1 being "not at all", 3 being "they got there eventually but struggled" and 5 being "they knew it instantly and well".
(Side note: It's important that you do this WITH your kid. Brainscape is not an app you just put in their hands to babysit them. You will be logging quality time and your kid will be learning so much faster with your personal feedback and interaction!)
Your rating determines how frequently the app shows that concept again, the idea being that the better they know it, the less often they'll see it. You see, Brainscape is engineered to target a learner's weaknesses, repeating unfamiliar concepts at just the right time intervals to ingrain it more efficiently in the learner's brain.
And so as your kid works through our colorful flashcard decks on letters, sounds, and words for objects, places, emotions, and more, the concepts they struggle with the most will be automatically repeated to them again and again until they get them right, allowing them to learn quicker and remember for longer!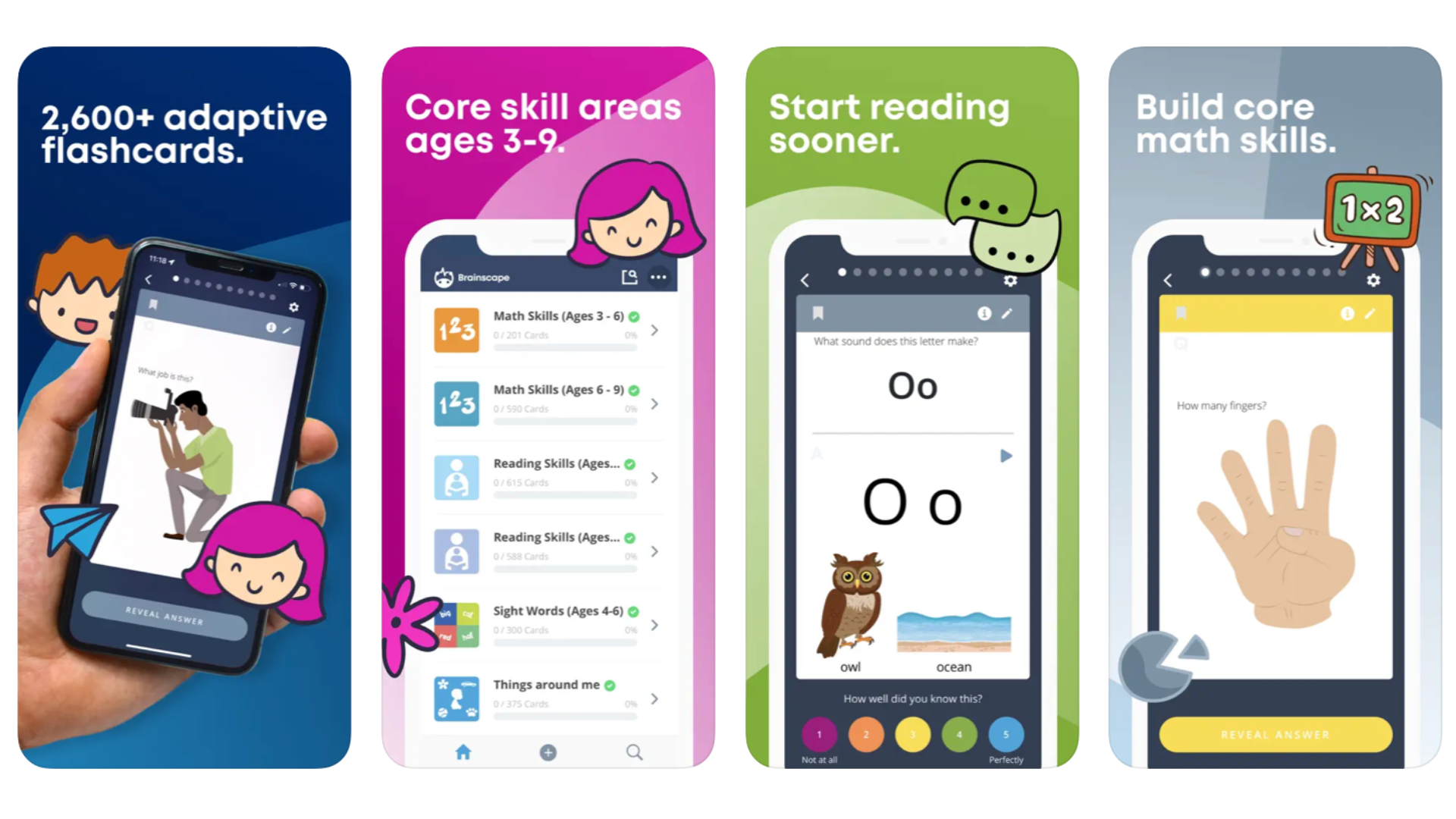 It's the combination of these cognitive learning principles and our comprehensive collection of engaging content that makes Brainscape the best language app for preschoolers!
Read 'How to use Brainscape to teach your kids' or watch this video...
Other pre-k language apps we love (and use with our own kids)
We may favor Brainscape but we also have a list of other pre-K language apps that we love and use with our own kids. These apps are great because they are more gamified and so they can be great "self-serve babysitters" for those times you just want to stick an iPad in your kid's hands and focus on your own things, like work, laundry, or self-care. (Holy crap, when last did you make time for that?)
Just know that there are a few tradeoffs: these fun, self-serve, game-like apps don't typically use spaced repetition because they don't record your kid's true mastery of each concept in the same way that your flashcard "confidence rating" can. What this means is that they may not be as effective as a learning tool or as a way to really track a profile of your kid's mastery across dozens of specific skills. If this is what you want to do, Brainscape is the answer.
But for the purpose of entertainment—and learning something in the process—try these excellent language learning apps for your preschooler…
Duolingo ABC — Learn to Read
Link: https://www.duolingo.com/abc
From the creators of one of the most popular language apps in the world comes Duolingo ABC, a fun, hands-on way for kids to learn to read and write in English. This language learning app allows kids from preschool to first grade to engage with interactive stories and over 700 hands-on lessons to help them learn the alphabet, phonics, sight words, vocabulary, and more.
These lessons also include multi-sensory activities, such as tracing and drag-and-drop prompts, while the interactive stories improve reading skills and build fluency. Fun mini games and rewards work in tandem with lessons, keeping kids motivated to learn while building their confidence.
ABC Mouse — Pre-K Learning App for Children
Link: https://www.abcmouse.com/
ABC Mouse is an award-winning language learning app for preschoolers (and up to age 8) that, in addition to reading skills, covers math, art, music, science, and more. Created by experts in education, it has 10,000+ engaging learning activities for children at all academic levels.
Some of the app's key features include a full standards-based curriculum for learning on iPad and iPhone; thousands of books, videos, puzzles, printables, songs, games, and animations; and 850+ lessons covering all academic subjects for ages 2 to 8. As the winner of the prestigious Mom's Choice GOLD, Teachers' Choice, and Parents' Choice GOLD Awards, ABC Mouse is definitely a language app to consider for your young kids!
Endless Reader — Sight Words for Kids
Link: https://www.originatorkids.com/
Endless Reader is a pre-K language app designed to set the stage for early reading success by introducing kids to "sight words", the most commonly used words in school, library, and children's books. Kids need to recognize these words by sight in order to achieve reading fluency and yet, they're notoriously hard to teach.
Each word (for example: be, but, do, have, he, she, they, was, what, with, etc.) features an interactive word puzzle with letters that come alive, and then a sentence puzzle with words that become what they describe. In this fun and interactive way, Endless Reader effectively reinforces sight recognition of words.
Epic — Kids' Books & Reading
Link: https://www.getepic.com
Epic is a leading reading app for preschoolers (and kids up to 12 years old). This fun, kid-safe, interactive reading app fuels curiosity and reading confidence by letting kids freely explore their interests, with instant, anytime access to a library of 40,000+ popular high-quality books, audiobooks, read-to-me-books, quizzes, learning videos, and more.
They even pack a library of Spanish, French, and Chinese-language books. Over time, the app makes personalized recommendations based on your kids' reading level and interests, while badges and rewards keep them motivated.
Homer Reading — Learn to Read
Link: https://learnwithhomer.com/
HOMER is an early learning program for kids aged 2 to 8 that builds skills for school and life, taking them on a personalized learning journey that boosts their confidence and grows with them.
This language learning app delivers playful learning activities across many subject areas, not just reading; interactive lessons, games, stories, and songs that keep your child engaged; hundreds of stories and characters they will love, from classics like Little Red Riding Hood to favorites like Thomas the Tank Engine; and additional resources for parents, including printables, videos, activities, and expert learning tips.
Kurious
Link: https://www.dreamyards.io
Kurious is an interactive book reading platform that will help your kids develop a lifelong love of learning and a keen imagination. Read and engage with high-quality stories that include music, videos, interactive touch-screen options, and audio narration from authors and book characters.
The books available within this colorful, easy-to-use reading app are designed to create a fun, engaging experience for kids while also helping them to become more confident and independent readers. The app also allows you to customize their reading experience based on age, language (English, German, and French), and interests (arts, engineering, math, space, and more).
Check out our free library for parents with preschool kids!
Homeschooling your kids or just need some tips on how to create an effective learning environment for your little ones at home? Read: 'How can I teach my young kids at home?'
Need help teaching your kids about numbers, counting, and basic math skills? Check out 'The best numbers & math apps for preschoolers'.
Are you struggling to get your kid excited about learning? Or at least to commit to it daily? We've got all the tips and tricks for lighting a fire under their little tuchus! Read: 'How do you motivate a stubborn child to learn?'
Want to make sure your kid is on track for schooling? Here's your official checklist for what kids need to know before kindergarten.
So there you have it: the best language apps for preschoolers, as well as some super helpful resources for you as their guardian. I hope the information and advice provided in this guide helps you make the best decision for your little ones, and that they use this technology to rise to the challenge of language and reading!