Ugh, math. Amiright?
Just when you thought you'd never have to open another math textbook again, you went and had a kid and now you need to start all over again! The good news is that this isn't calculus … yet. At the pre-K level, math is actually FUN, especially when you're using M&Ms to illustrate basic addition (and subtraction, yum).
But there are only so many M&Ms you can eat before someone gets an upset tummy, so to help your kids master their numbers, the team here at Brainscape—the world's smartest study app—put together a toolbox of the best math apps for preschoolers.
Now, the reason we love these numbers apps is because they provide a structured, yet entertaining and effective way for kids to become fluent in the concept of numbers, counting, comparisons, and values, while engaging them with games and rewards to motivate their learning.
If only there were such apps around when WE were in school, right?
Then, at the end of this guide, you'll find a free library of really helpful resources to guide your kid's education. So, switch out the candy for these excellent math apps for preschoolers and, before long, your little one will be fluent in numbers!
Read: 'What do kids need to know before kindergarten?'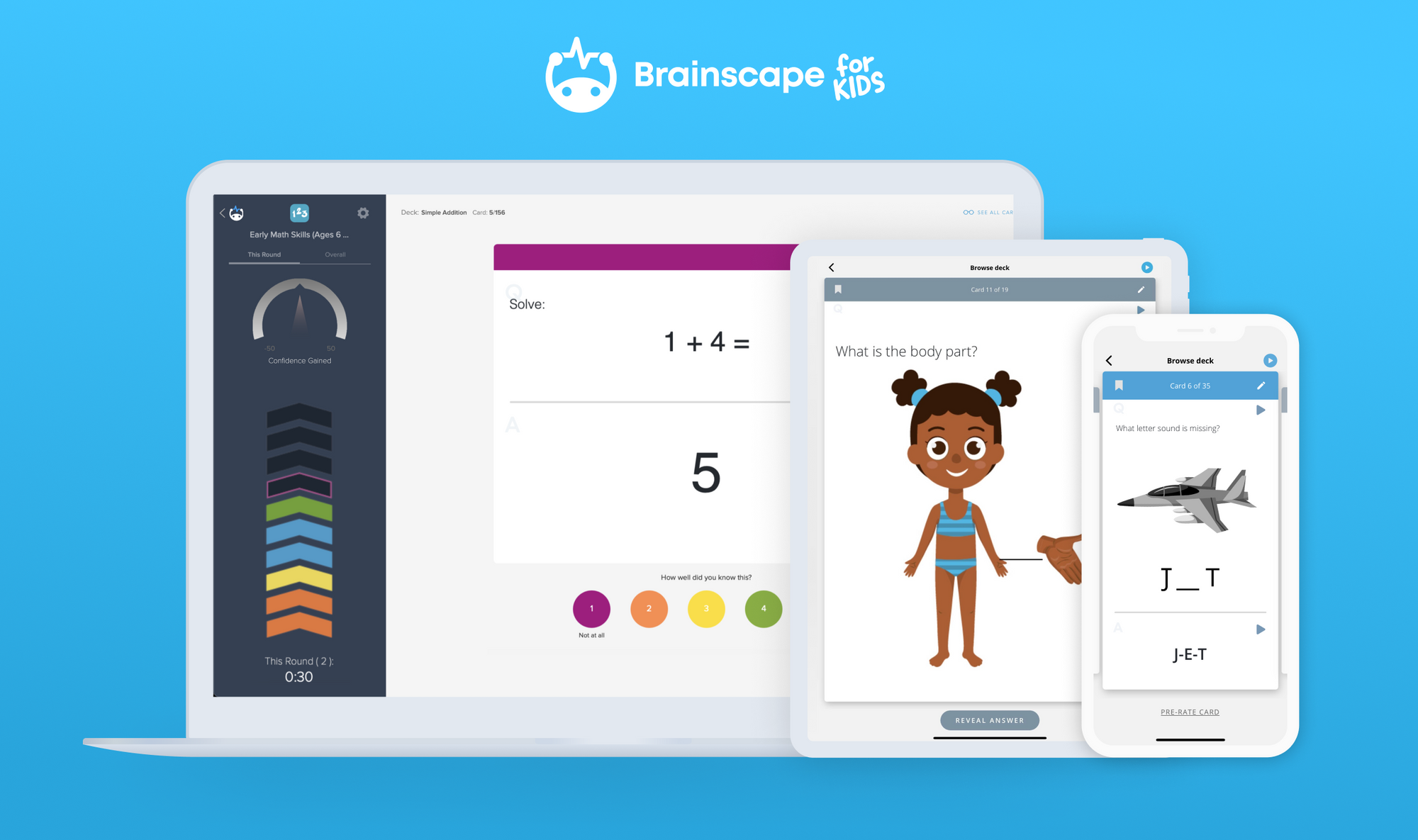 Brainscape's Early Childhood Education app contains a collection of flashcards specially for math and counting, and they're one of the most effective tools for young kids aged 3 to 9. We've worked with experts in early childhood education to distill down the complete recommended curriculum for preschoolers into this collection of engaging adaptive flashcards.
Side note: The same app comes with an entire flashcard collection for reading skills (letter names and IDs, sight words, sounding out words, alliteration, and rhyming); "Things Around Me" (common objects, animals, people, places, weather, anatomy, and emotions); and so much more: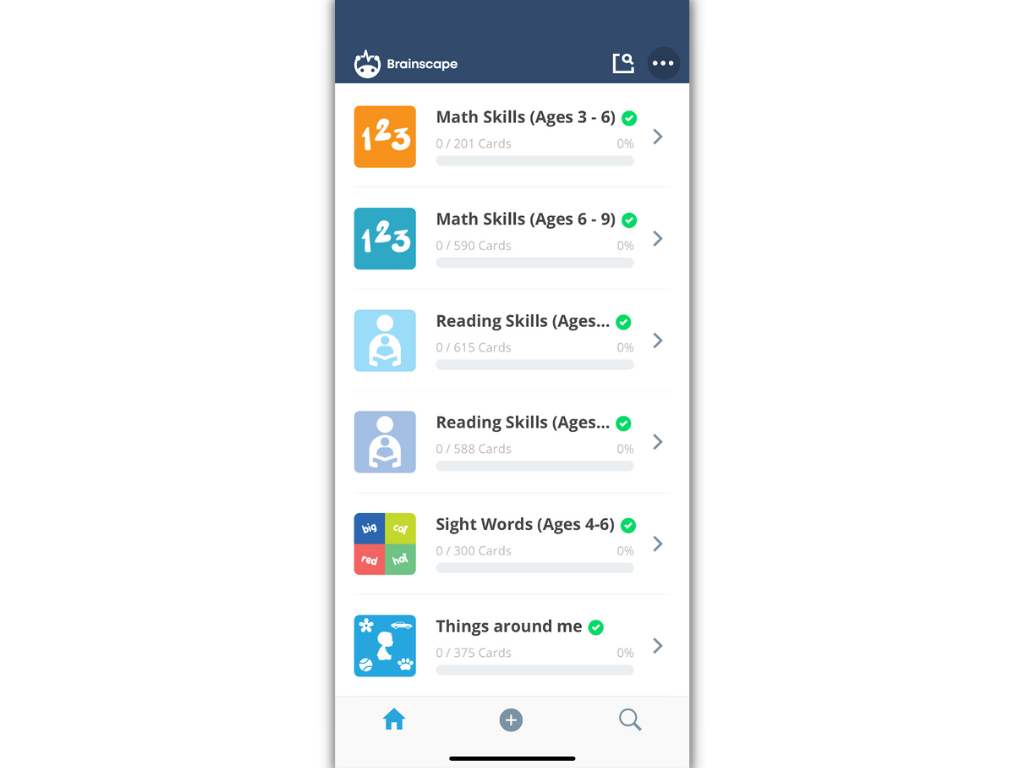 Brainscape's math app for pre-K kids is based upon decades of cognitive science research into how the brain is fundamentally hardwired to learn. In fact, our spaced repetition learning algorithm is scientifically proven to help them learn TWICE as fast as any other method.
(Read about the complete cognitive science of Brainscape.)
How these flashcards work is simple but you'll need to log quality time with your little one practicing them. Brainscape is not an app you just put in their hands to "babysit" them. You'll be working through flashcards with them, and they'll be learning so much faster with your personal feedback and interaction!
So, open Brainscape on any device, select a class and a deck of flashcards to practice. The question side of the first flashcard will pop up with some kind of prompt, like the following …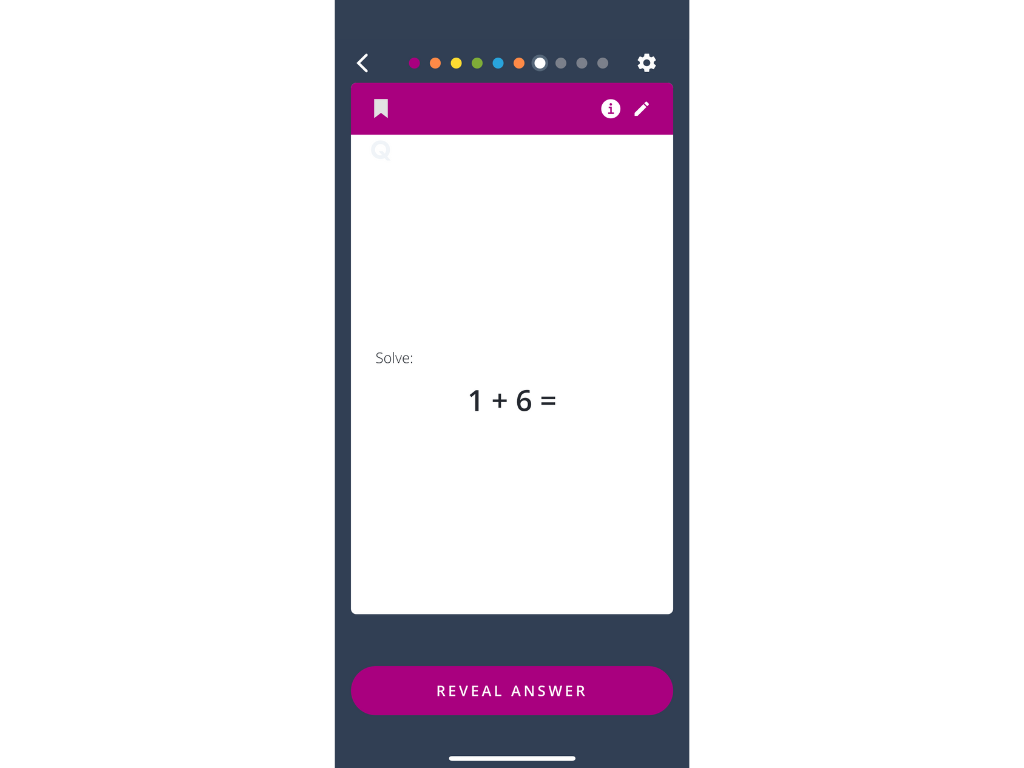 Encourage your kid(s) to answer the question from scratch, then turn over the flashcard to reveal the answer.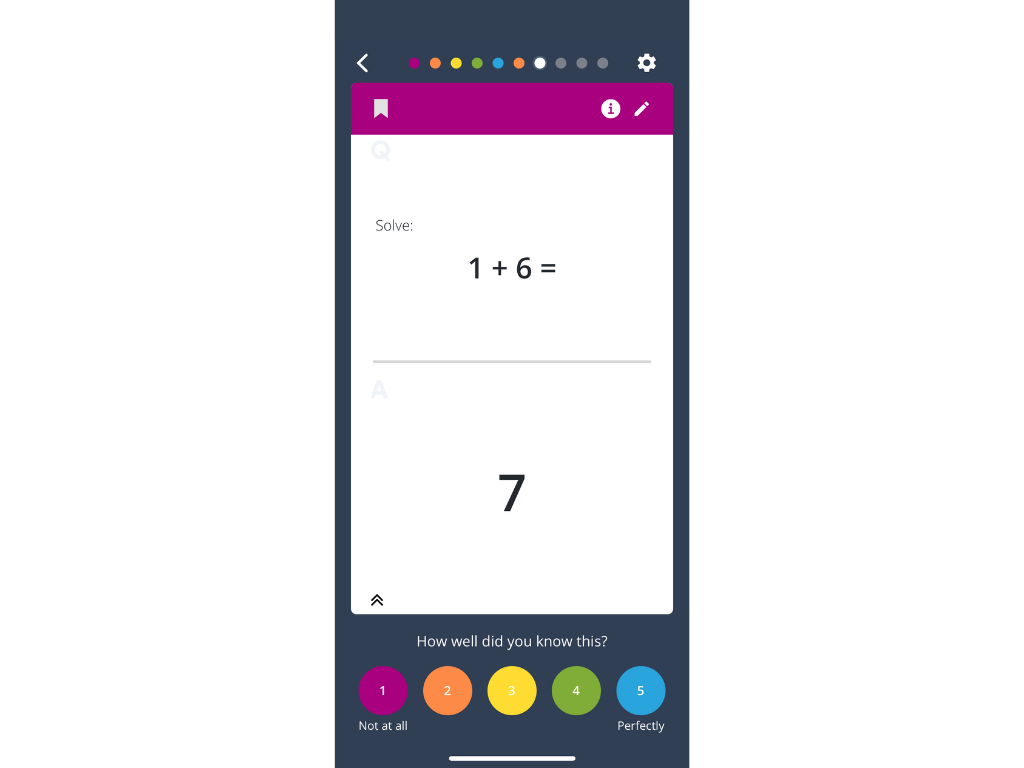 Now rate how well your child knows the answer on our scale of 1 to 5 with 1 being "not at all", 3 being "they got there eventually but struggled" and 5 being "they knew it instantly and well".
Your rating determines how frequently the app shows that concept to your kid again, the idea being that the better they know it, the less often they'll see it. Brainscape is engineered to target a learner's weaknesses, repeating unfamiliar concepts at just the right time intervals to ingrain it more efficiently in the learner's brain.
And so as your kid works through our colorful flashcard decks on number ID, counting, quantity, colors, and basic addition, the concepts they struggle with the most will be automatically repeated to them again and again until they get them right, helping them learn quicker and remember for longer!
It's the combination of these cognitive learning principles and our comprehensive collection of engaging content that makes Brainscape the best numbers app for kids!
Read 'How to use Brainscape to teach your kids' or watch this video...
Other pre-k math apps we love (and use with our own kids)
We may favor Brainscape but we also have a list of other math apps for pre-K that we love and use with our own kids. These apps are great because they are more gamified so they make great "self-serve babysitters" for those times you just want to stick an iPad in your kid's hands and focus on your own things, like work or getting in a nap. (Remember naps? Ah, those were the days.)
Just know that there are a few tradeoffs: these fun, self-serve, game-like apps don't typically use spaced repetition because they don't record your kid's true mastery of each concept in the same way that your flashcard "confidence rating" can. What this means is that they may not be as effective as a learning tool or as a way to really track a profile of your kid's mastery across dozens of specific skills. If this is what you want to do, Brainscape is the answer.
But for the purpose of entertainment—and learning something in the process—try these excellent numbers apps for your preschooler…
Khan Academy Kids — Pre-K Maths App
Link: https://learn.khanacademy.org/khan-academy-kids/
Khan Academy Kids is a free, fun, educational program and math app for pre-K with thousands of activities and books that will inspire a lifetime of learning and discovery for children ages 2 to 8. Their award-winning app is thoughtfully designed by experts in early childhood education to guide young learners on a delightful journey through key skills in math, counting, numeracy, comparisons, and more.
Khan Academy Kids includes thousands of age-appropriate lessons, activities, books, and games. It's also completely free and always adding new content to keep kids engaged, including books, songs, and videos.
Read: 'How do you motivate a stubborn child to learn?'
Todo Math — Numbers App for Kids
Link: https://todoschool.com/en/math
Created by an award-winning team and used by more than 10 million parents and 5,000 teachers worldwide, Todo Math is one of the best math apps for preschoolers, packing 2,000+ interactive math activities for pre-K through 2nd grade.
This math app covers the fundamentals of early math education with engaging gameplay, beautiful graphics, adorable collectibles, and a curriculum that is aligned with Common Core State Standards. It's also playable in 8 languages with left-handed mode, help button, dyslexic font, and other accessibility features so that ALL children are empowered to learn independently.
Read: 'How can I teach my young kids at home?'
Fish School — 123 ABC for Kids
Link: https://www.duckduckmoose.com/educational-iphone-itouch-apps-for-kids/fish-school/
Through fun (underwater) activities and adventures, Fish School engages kids with letters, numbers, shapes, matching, colors, and more. This numbers app features eight educational activities that help kids identify (1) their numbers and how to count from 1 to 20; (2) shapes by following the fish as they form different shapes; (3) colors; (4) differences by picking the "odd one out"; (5) matching by finding two fish that are the same; and so much more.
As winner of a Parents' Choice Gold Award and a Children's Technology Review Editor's Choice Award, this interactive numbers app for kids is a great introduction to the world of numeracy!
Read: 'The best language & reading apps for preschoolers'
Endless Numbers Math App for Preschoolers
Link: https://www.originatorkids.com/
From the passionate artists and engineers behind Endless Alphabet and Endless Reader, comes Endless Numbers, a math app for preschoolers that, together with a cast of pretty adorable monsters, helps them with number recognition, sequences, quantity, numerical patterns, and simple addition.
Each number they learn features interactive sequences, equation puzzles, and a short animation that provides context and meaning to that number. The Interactive nature of Endless Numbers is great for reinforcing basic numeracy skills and without high scores, failures, limits or stress, your kids can interact with the app at their own pace.
Read: 'How to build your kids resilience (without traumatizing them)'
Moose Math — Numbers App for Kids
Link: https://www.duckduckmoose.com/educational-iphone-itouch-apps-for-kids/moose-math/
Through fun, multi-level activities, Moose Math takes kids on a mathematical adventure, where they will be engaged in counting, addition, subtraction, sorting, and geometry. While playing the five multi-level activities, kids can earn rewards to help build their own city and decorate buildings.
Moose Math also introduces a new whimsical group of Duck Duck Moose characters: The Dust Funnies, who help with mastering math skills. Moose Math is aligned with Common Core State Standards for Kindergarten and 1st Grade and includes a Report Card section where parents and teachers can monitor progress and find additional skill-building activities.
Read: 'What I learned about parenting from training my dog'
Check out our free library for parents with preschool kids!
Homeschooling your kids or just need some tips on how to create an effective learning environment for your little ones at home? Read: 'How can I teach my young kids at home?'
Need help teaching your kids about letters, words, and basic reading skills? Check out 'The best language & reading apps for preschoolers'.
Are you struggling to get your kid excited about learning? Or at least to commit to it daily? We've got all the tips and tricks for lighting a fire under their little behinds! Read: 'How do you motivate a stubborn child to learn?'
Want to make sure your kid is on track for schooling? Here's your official checklist for what kids need to know before kindergarten.
So there you have it: the best math apps for preschoolers, as well as some super helpful resources for you as their parent or guardian. I hope the information and advice provided in this guide helps you make the best decision for your little ones, and that they use this technology to rise to the challenge of numbers and numeracy!