Oh cool! You found your way to one of Brainscape's awesome academy articles on how to improve your general knowledge. Only thing is, we've done A WHOLE LOT since this itty bitty blog was published back in the Precambrian Era so if you want to supercharge your brain (or just win your next pub quiz), read this article instead:
'How to sound smarter in conversations (and actually BE smarter)'.
It's an infinitely better version of this early blog PLUS we've created a whole new collection of general knowledge flashcards, which you can get for free right here. You're welcome!
Okay, back to our original article on knowledge rehab...
Think you know it all? Or is there more you wish you'd learned in school and life? Ready to stop faking your knowledge?
It's time to study with adaptive web & mobile Knowledge Rehab flashcards, which are now pre-loaded with every new Brainscape account.

With Knowledge Rehab, becoming more culturally literate—regarding anything from "containment" to the Kardashians—is now fast, easy, and accessible.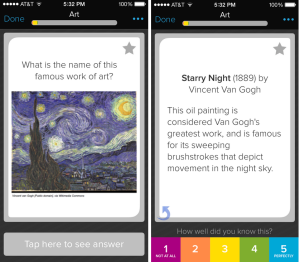 Through a multi-year project involving hundreds of students, teachers, professors, and experts from different fields, Brainscape has effectively democratized cultural literacy with this compilation of knowledge across a huge range of subjects provided for FREE in the Brainscape flashcards app. Whether you want to review the arts, sciences, social sciences, or even pop culture and entertainment, it's all here. And it's optimized using the world's best new study platform: Brainscape.
With Knowledge Rehab, as with as any of the expert-certified flashcards that we offer, we break knowledge into its most digestible bite-sized building blocks and then deliver them through a synchronized, adaptive web and mobile study experience that is scientifically optimized for maximum memory retention. We sometimes call this "flashcards on steroids."
Over 1 million students, teachers, and professionals—hopefully you among them—already use Brainscape to create, share, and find efficient study materials for foreign languages, academic subjects, standardized tests, and professional development.
"Educational services are changing rapidly; students no longer have to study the same way their parents and grandparents did," says Brainscape founder and CEO, Andrew Cohen. "With services like Instagram and Facebook changing our mindset for how we connect with large amounts of information, it's imperative that educational experiences also evolve. Study tools and content also must respect that much of the world increasingly has ADD—or at least feels information overload."
For many educators, technology has already become critical for better reaching and teaching students in both class and at home. In a global e-learning market that is predicted to reach $107 billion this year according to a report from Global Industry Analysts (GIA), Brainscape expects its optimized, bite-sized study platform to be a major player. Knowledge Rehab will introduce millions of new users to Brainscape.
"Knowledge has been compiled in books or pictures for millennia. But in today's busy, overloaded world, many want or need more efficiency," explains Andy Lutz, Brainscape's co-founder and Chief Product Officer. "Where do you think learning is going? Is it moving toward 3-hour lecture videos and 500-page textbooks, or toward the 140-character end of the spectrum? And while studying obviously requires more than those damn 140 characters, it's also clear that learners will increasingly prefer condensed, digitally-connected, and easy-to-absorb knowledge—curated and personalized for them."
In the first release of Knowledge Rehab, Brainscape included over 2,000 multimedia flashcards with information on core topics experts felt that everyone should know, often also including links to additional resources for further study beyond Brainscape. Yes, Brainscape's team knows that to be truly culturally literate in the modern world, you should know BOTH Shakespeare and the latest Hollywood trend-setters. Knowledge Rehab will be living content: the team will continue to improve the scope of cultural knowledge offered based on user feedback for version 2.0 and beyond.
"Unlike the 5-year process to update a textbook, we can and will add to Knowledge Rehab next week," adds Lutz.
[Check out Knowledge Rehab for FREE and get more cultured!]