You're here because you want to expand your horizons by learning a new language—¡Español!—using all the cheat codes you can get your hands on. I'm talking, of course, about the best apps to learn Spanish and, great news, you're in the perfect place to discover some super helpful learning tools!
We here at Brainscape spent over 10 years developing our flashcard software specifically for Learning Spanish, while leveraging the key cognitive science principles of language learning. So, yeah, we kinda know a little bit about what Spanish apps are out there and which ones are the best for expediting your learning journey. (We also wrote a whole guide about the best strategy for learning Spanish more efficiently, so definitely check that one out!)
We also wholeheartedly support the use of apps for language learning, particularly since we all spend so much time on our phone (don't deny it). But instead of swiping left on Bumble or scrolling through your Insta feed, why not squeak in some productive learning on your daily commute with these 6 best apps for beginners to learn Spanish.
You'll be on your way to hablar en español in no time!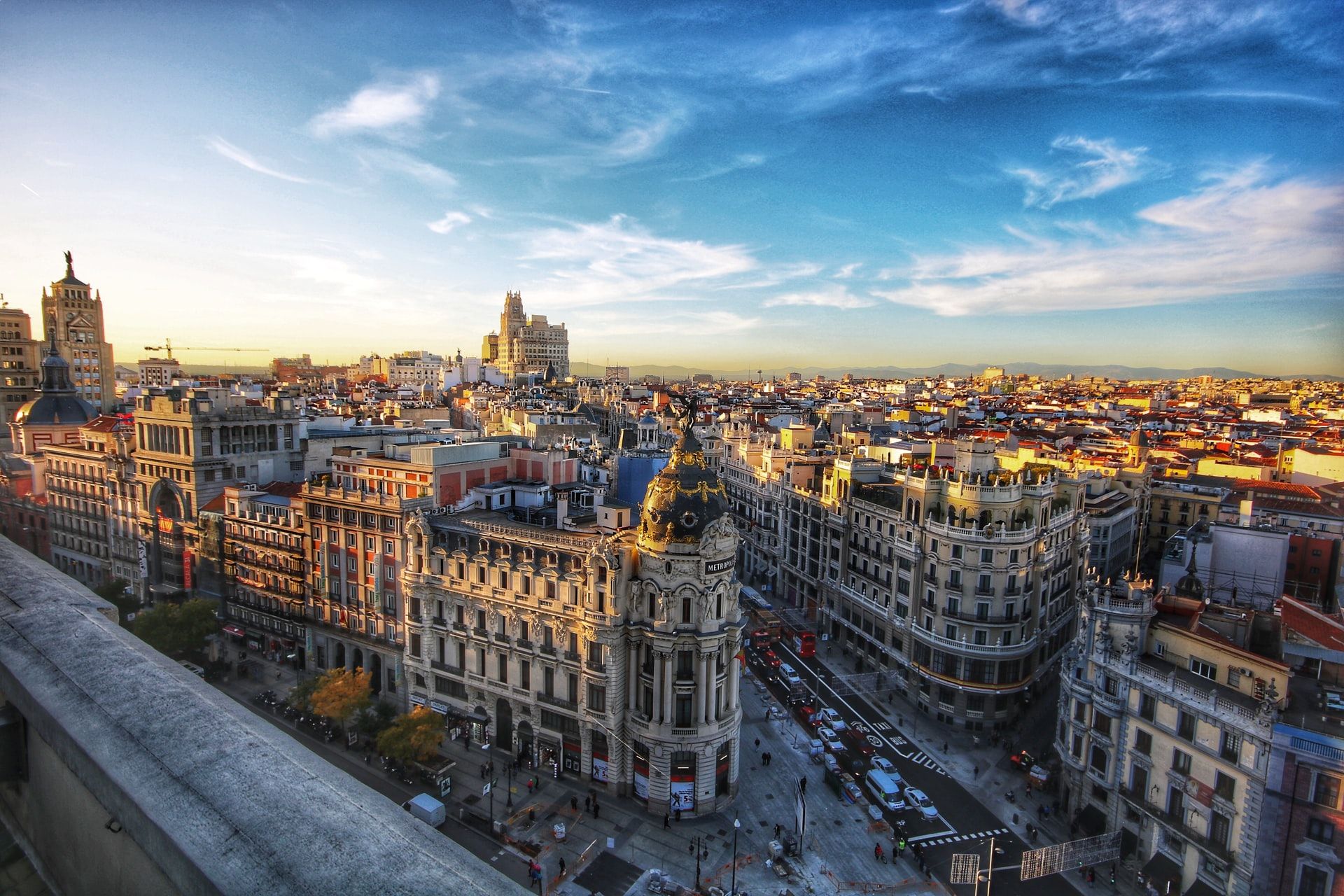 We naturally have to start with ourselves. Brainscape's adaptive flashcard app is the best way to learn the core components of the language: grammar, vocabulary, phonetics, and pragmatics (rules for appropriate and effective communication).
Our custom adaptive learning technology helps you learns thousands of new Spanish grammatical concepts, vocab words and even pronunciations with the help of spaced repetition. It's the best approach to language learning according to extensive scientific research because you spend more time on concepts you find difficult and less time on those you've already mastered.
What's more, the curriculum was built from the ground up based on a careful ordering from the most basic, fundamental concepts you should know first, through to the most esoteric. (Yes, we too were burned by other apps' early Spanish lessons like "At the post office" and "At the zoo", which few beginners would really ever need.)
Brainscape is the only app on the market whose curriculum was specifically built for a spaced repetition algorithm. Together with our app and the cognitive scientific principles it's founded upon, you'll learn Spanish more efficiently and faster.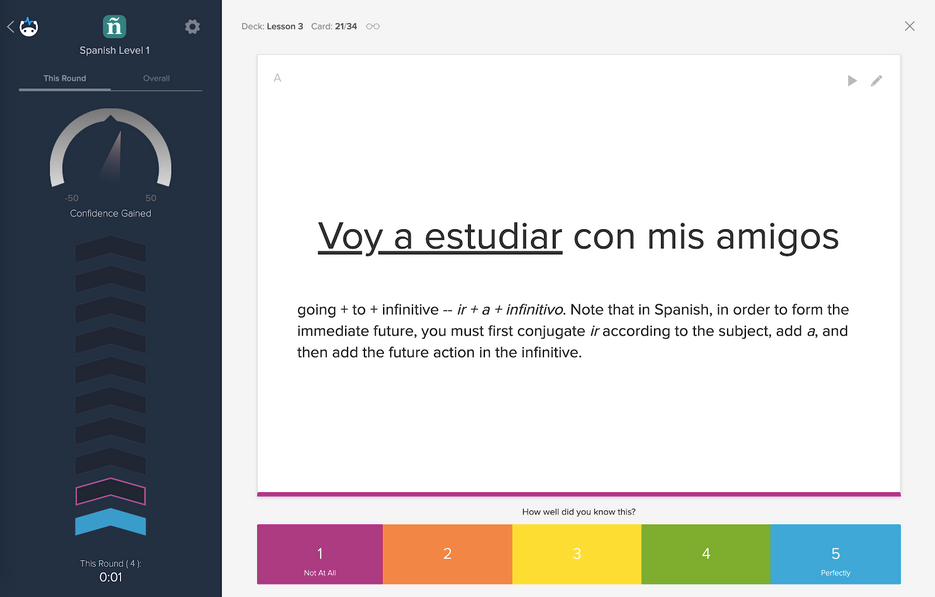 Pros:
You can start learning Spanish using Brainscape from any level. Even if you're a little more advanced, you can start from the beginning and brush up your memory on vocab and grammar before tackling new concepts.
Our app judges your ability to learn by asking you to rate your self-confidence for each concept. This helps the app properly gauge when and how often it should repeat new information.
You also don't learn everything at once. Brainscape uses a cumulative curriculum that introduces only one new concept at a time in a logical order (from most useful to most specific).
What's more, Brainscape's Learn Spanish app features audio pronunciations, which allows you to hear the Spanish as it should sound!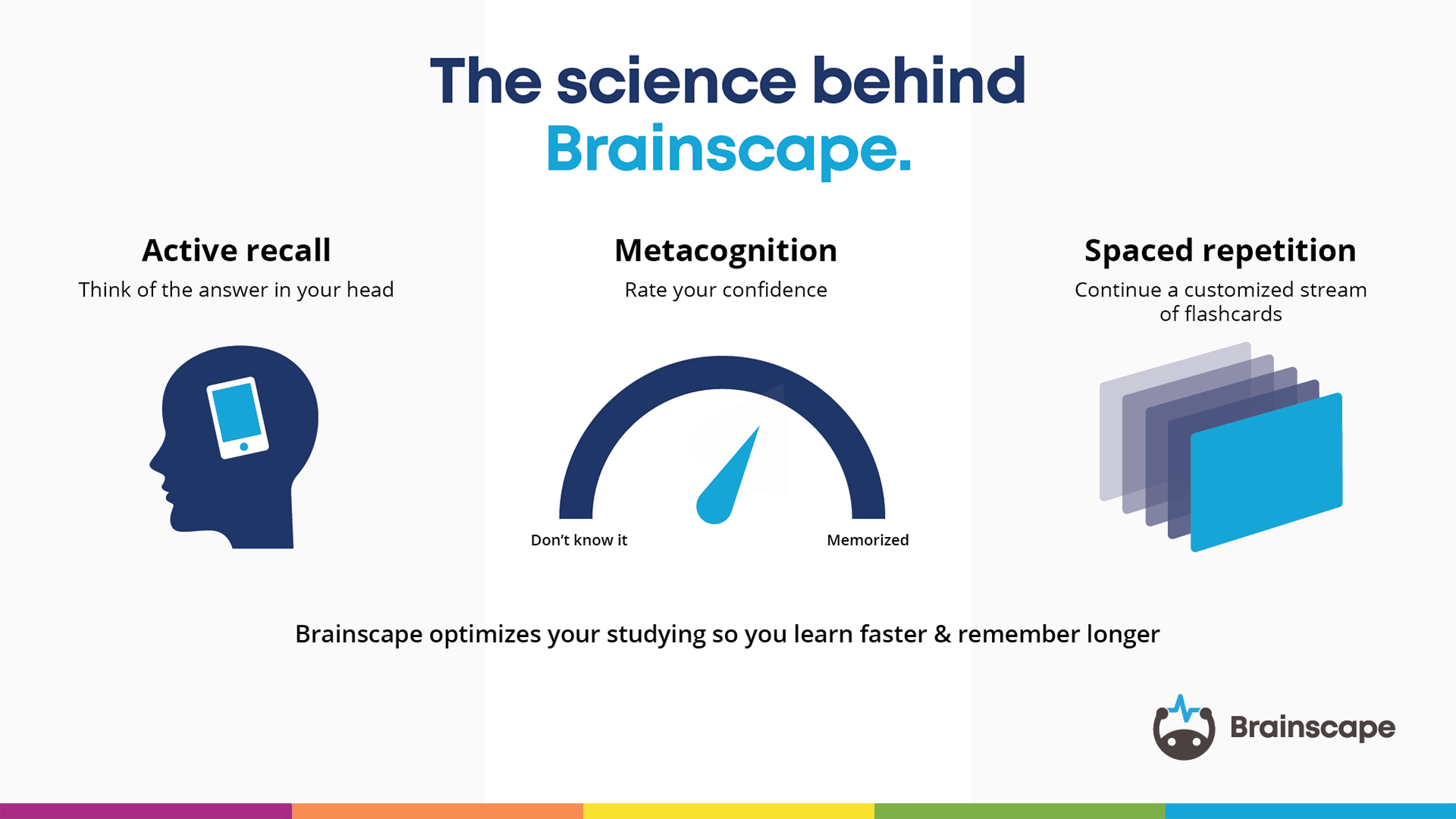 Cons: As you might have guessed, our Spanish product isn't available free of charge, but you can preview large portions of it for free, and it's super cheap to upgrade! Also, you can always make your own flashcards for free.
2. Duolingo
Duolingo is a game-like app that rewards you with badges for practicing your Spanish. If you're looking to learn Spanish in a more fun and game-like setting, then Duolingo is the right choice!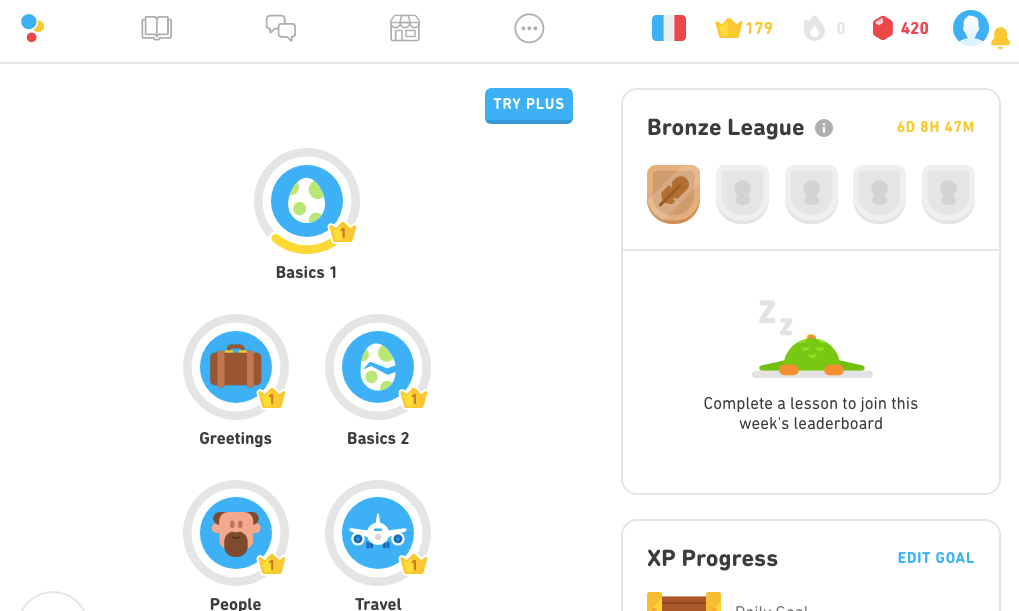 Pros: Duolingo is popular for multiple reasons: It's free, it's a game, and it does a reasonably good job of teaching vocabulary, simple conjugation, and basic listening skills. It accomplishes this in a game-like setting, complete with hearts to "lose" for each level you finish (Zelda, anyone?). You can even see whether or not you're learning faster than your friends.
Cons: The major con with Duolingo is that it doesn't hit heavily on grammar. Depending on your Spanish goals, this may or may not be a real con. If you only need to know how to order lunch while you're on spring break, it's probably fine; if you're serious about learning and want to, for example, pass the AP Spanish test or have deep conversations in Spanish, you may want to use Brainscape instead.
Also, while Duolingo is great at lower levels, it won't really get you past a lower intermediate level. If you want to be able to have a conversation in Spanish, you'll grow out of Duolingo.
3. Rosetta Stone
Rosetta Stone's app is a classic app for learning Spanish. It's been around for ages and for a good reason. It offers users a balanced approach to language learning with speaking, writing, and rewarding exercises at various levels.
Pros: Rosetta Stone offers a completely immersive language learning experience. There won't be any English equivalents offered to you in this app—the idea is that you're learning Spanish just as a child would. To help you understand concepts, you can schedule lessons with a live tutor, and even converse with native Spanish speakers.
Cons: As you may have guessed, all that doesn't come for free. While you can download the trial version free of charge, the cost for the full features is $199.99. Rosetta Stone also lacks explanations on grammar and other language rules, as the whole idea is that you will just "figure it out" intuitively. We don't think that always works; in fact, there are some good scientific reasons why your mother tongue has a place in language learning. Grammar geeks would probably be more likely to appreciate something more like Brainscape.
4. Learn Spanish with Busuu
Busuu is a community-oriented app that's best for honing your speaking skills. It has similar activities to Duolingo but rather than learning on your own, it offers a unique opportunity to connect with native Spanish speakers who are looking to learn English.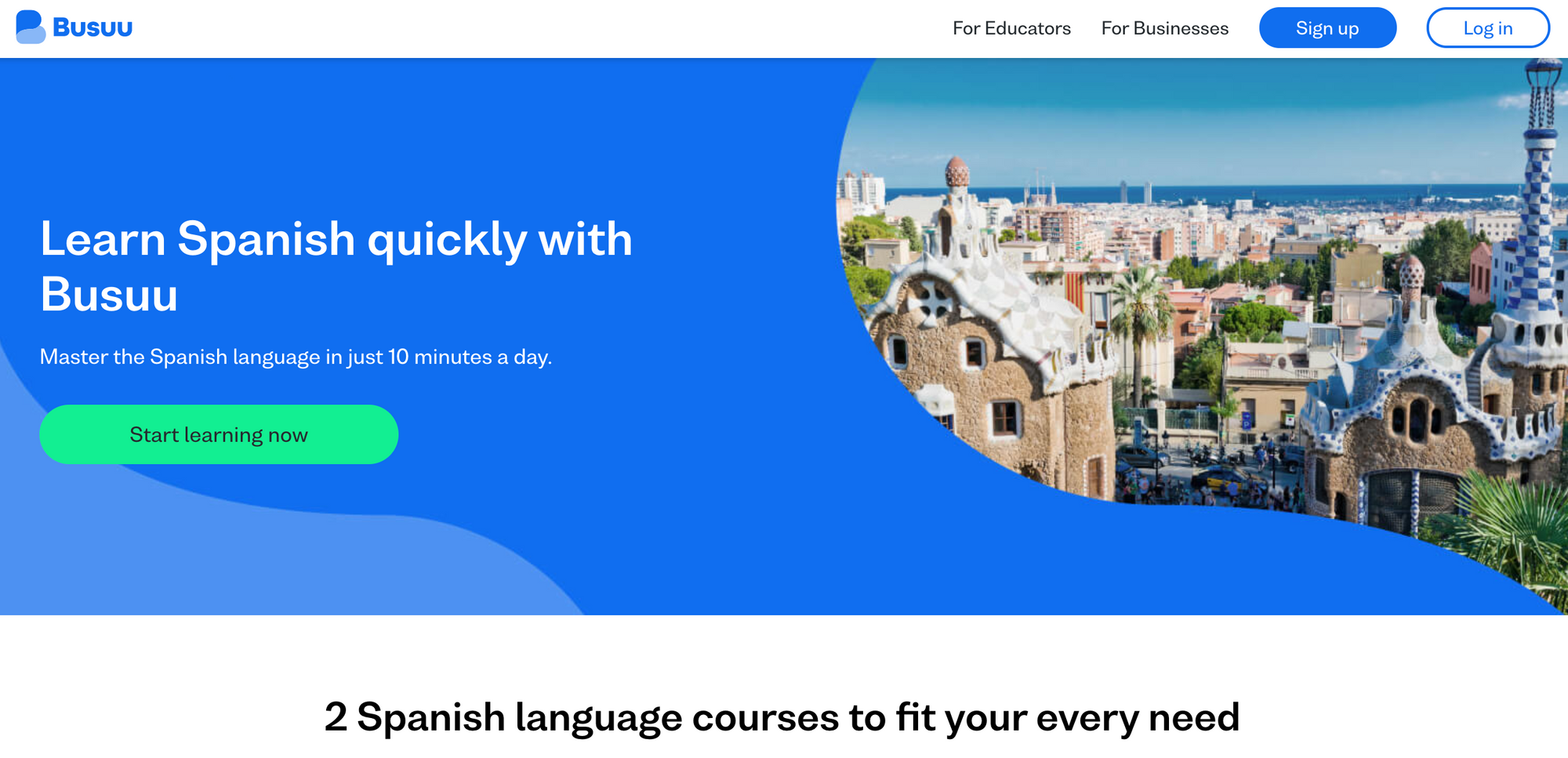 Pros: Busuu's strength lies in its community. This app for learning Spanish focuses heavily on oral practice. Its users learn vocabulary, practice writing and then editing one another's work, practice speaking with native Spanish speakers, and even record mock conversations.
Cons: The app has changed its model over recent years, though. You still have a 'fast-track' to learning Spanish with messaging exercises with a community of native speakers but that's an added feature. Instead, they now use a free speech recognition tool. And again, native speakers aren't for free. At this time Busuu charges €6,66, or approximately $8, per month of use.
5. Spanish Translator +
Spanish Translator + by Vidalingua is the go-to dictionary that every serious learner needs on their language learning journey. Having a dictionary handy means you can look up the meaning of words on the fly.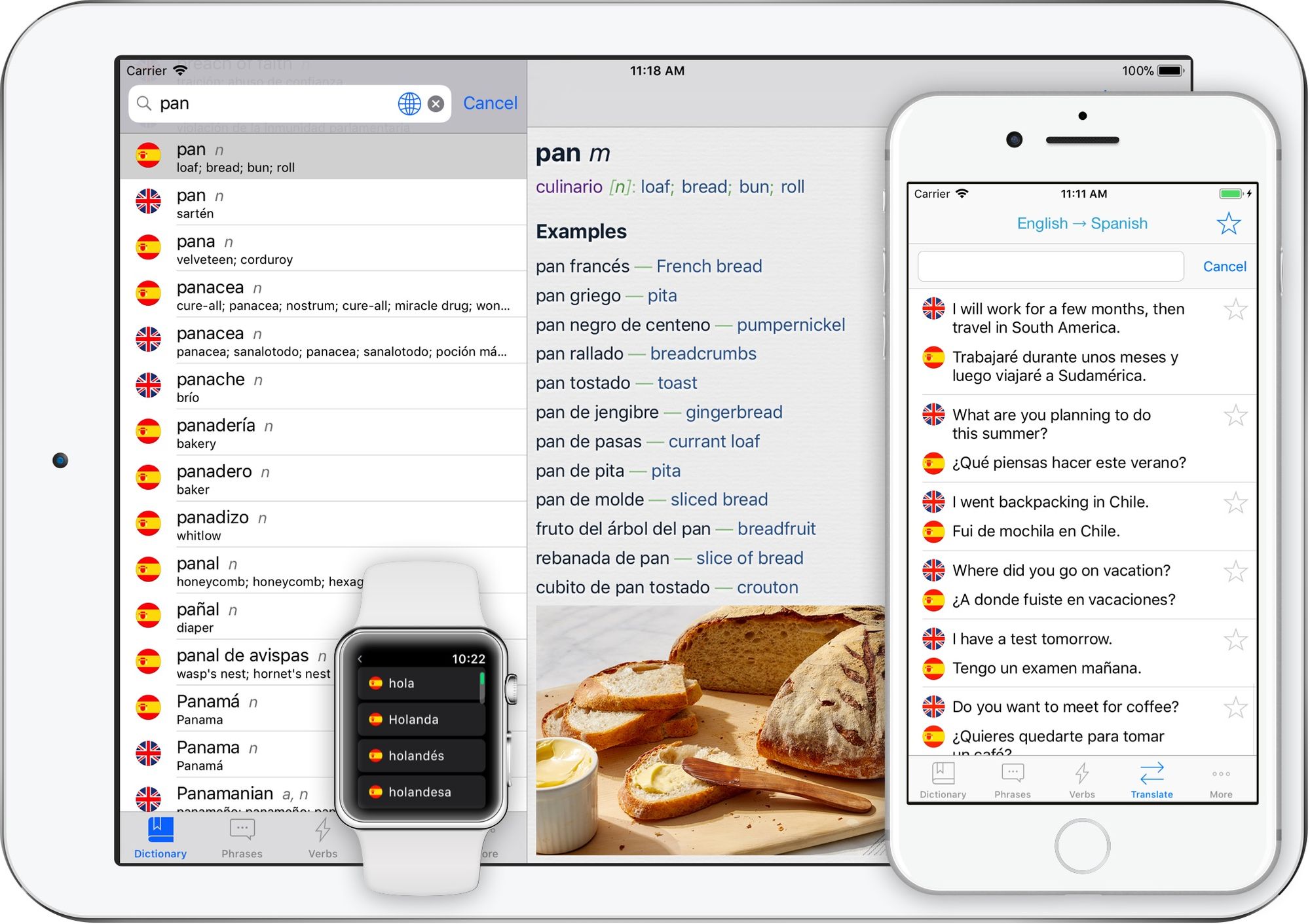 Pros: This app isn't just your everyday dictionary. It includes an advanced sentence translator, comprehensive dictionary, verb conjugator, phrasebook, flashcards, vocabulary quizzes, and more. That's quite a collection of learning tools that you can use anywhere and at anytime! It also allows you to personalize your learning process by adding your own audio, notes, and pictures.

Cons: It really only meets the needs of a basic language learner. There are many phrases, conjugations, and grammatical concepts that are not included in the app. It's also not great for instruction. While super handy as a reference guide, if you actually want to learn Spanish, you'll probably want to double up with another one.
6. Tandem
Arguably, the best way to learn a language is by speaking it consistently. Unfortunately, we don't all live among the cobbled streets of Madrid, able to ask our Spanish friend for a quick lunch of Tortilla de Patatas. That's where the Tandem app for learning Spanish comes into play.
Tandem is an online learning community with tons of available conversation partners in Spanish. All you need to do is choose your language and search for an appropriate partner. You can begin chatting about real topics rather than simply speaking directly to your app. Bye AI!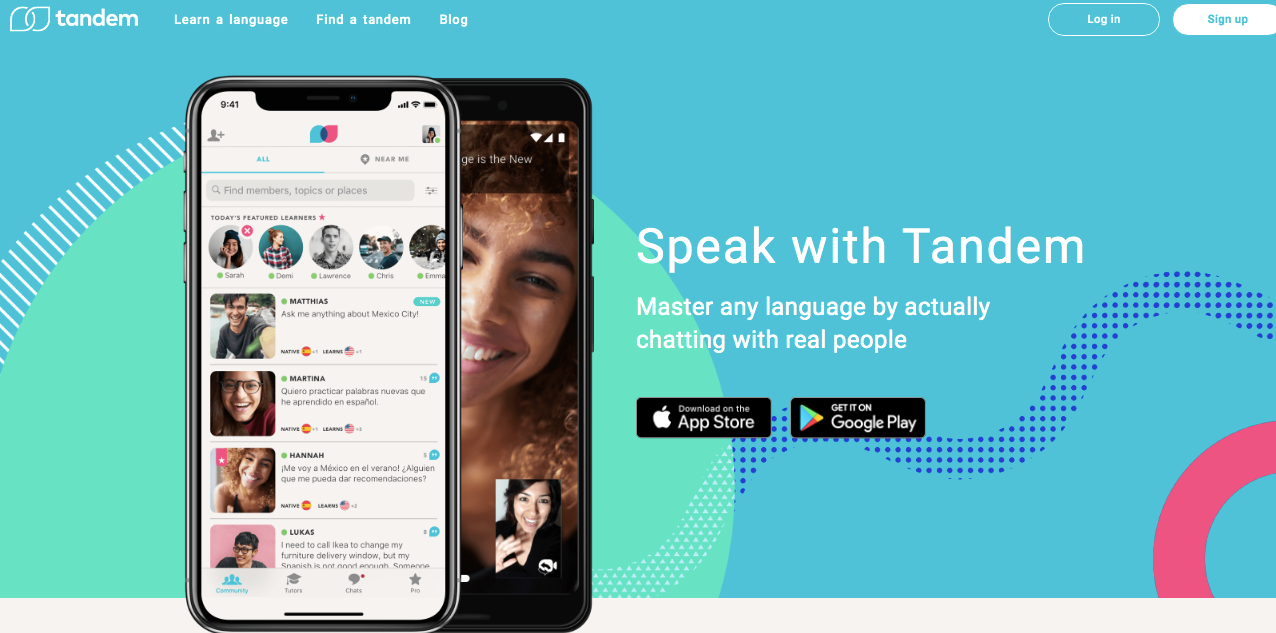 Pros: By offering real conversation partners, Tandem is the ideal app to practice your listening skills, improve pronunciation, and speak in a foreign language to a local. Although you still need to learn vocab and grammatical structures (with Brainscape, for example) this is the perfect way to practice your Spanish and talking will soon become second nature.
Cons: The only real downside to Tandem is that you might want to spend your money on visiting your new friends from Barcelona. But would that really be so bad?
Which one is the best app to learn Spanish?
There are definitely apps out there for learning Spanish that are better than others. But no app can replace an entire language learning journey. After all, cognitive science research shows that the best way to learn Spanish is through real-world study (speaking, listening, and reading) and by using deliberate learning tools for grammar and vocabulary.
You should construct a learning experience that best suits the way you learn and includes all aspects of a language: speaking, writing, listening, and grammar. And how do you do that? Brainscape has created a comprehensive guide on how to learn Spanish more efficiently. This is your best starting point.
¡Vamos! Let's learn Spanish.