Flashcards in
MSK Chapter - Pictures
Deck (51)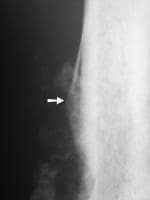 Codman triangle
from elevation of periosteum
Definitely associated with osteosarcoma, may be associated with other things
Onion skin appearance in bone
May be associated with ewing sarcoma, osteomyelitis, osteogenic sarcoma
Sunburst pattern on X-ray
Definitely associated with osteosarcoma, may be associated with other things
Soap bubble appearance - giant cell tumor
*
Salt and pepper sign of the calvaria refers to multiple tiny hyperlucent areas in the skull vault caused by resorption of trabecular bone in hyperparathyroidism. 
*
*
*
*
*
*
Heberden's nodes - associated with osteoarthritis
What disease?
*
Bouchard's node - Osteoarthritis
*
Baker's cyst - associated with Rheumatoid arthritis
*
Eburnation - associated with osteoarthritis
*
Subchondral cyst - associated with osteoarthritis
*
Osteophyte - association with osteoarthritis
*
*
*
Bamboo spine - ankylosing spondylitis
*
Dactylitis - 
Usually associated with psoriatic arthritis
Dactylitis can occur in seronegative arthropathies, such as psoriatic arthritis and ankylosing spondylitis, and in sickle-cell disease as result of a vasoocclusive crisis with bone infarcts, and in infectious conditions including tuberculosis and leprosy. In Reiter syndrome, sausage fingers occur due to synovitis.[2]
*
Pencil in cup deformity - psoriatic arthritis
*
Lupus pernio - associated with sarcoidosis - 
Cutaneous lesions of sarcoidosis (lupus pernio). Red-to-purple indurated plaques and nodules affecting the nose and cheeks.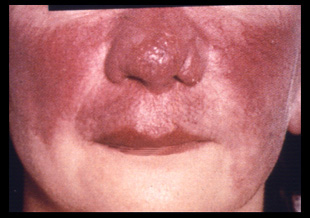 *
Lupus pernio lesions are indurated and violaceous and range from a few small lesions to large lesions as in this patient
*
Schaumann body - calcium and protein inclusion inside Langhans giant cells - associated with:
- Sarcoid
- Hypersensitivity pneumonitis
- Berylliosis 
- Crohn's, TB (rarely)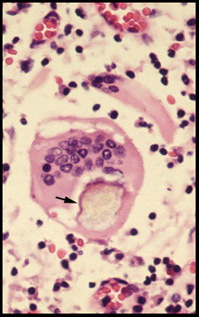 This cytoplasmic Schaumann body (arrow) is common in sarcoidosis but is nonspecific.
- Sarcoidosis 
- Hypersensitivity pneumonitis
- Berylliosis
- Crohn's, TB (rarer)
*
Asteroid body 
An asteroid body, is a microscopic finding seen within the giant cells of granulomas in diseases such as sarcoidosis and foreign body giant cellreactions.[1]
*
Gottron papules - associated with dermatomyositis
*
Heliotrope rash - dermatomyositis
*
Shawl and face rash - dermatomyositis
*
Shawl and face rash - dermatomyositis
*
Mechanic's hands
Polymyositis and dermatositis
People with dermatomyositis or polymyositis may develop "mechanic's hands," a roughening and cracking of the skin of the tips and sides of the fingers, resulting in irregular, dirty-appearing lines that resemble those of a manual laborer
*
Myositis ossificans - metaplasia of skeletal muscle to bone following muscular trauma
*
*
*
Melasma / Chloasma - hyperpigmentation associated with pregnancy
*
Ephelis - Freckle
Ephelis: A form of freckle. A flat red or light-brown spot on the skin that typically appears during the sunny months and fades in the winter. They are most often found in people with light complexions and in some families, they are an hereditary (genetic) trait. The regular use of sunscreen during times of sun exposure helps to suppress the appearance of the ephelis-type freckle.
*
Verrucae - warts caued by HPV
*
Hairy leukoplakia
Associated with EBV, occurs in HIV positive patients
*
Pemphigus vulgaris - note the reticular net-like pattern
*
*
Bullous pemphigoid immunohistohemistry - IgG antibody against hemidesmosomes
Antibodies are below the epidermis
*
Erythema multiforme - associated with infections, drugs, cancers, autoimmune disease. Presents with multiple types of lesions. 
Looks like targets with multiple rings and dusky center showing epithelial disruption.
*
Actinic keratosis - this is the one that precedes squamous cell carcinoma
*
Erythema nodosum
Painful inflammatory lesions of subcutaneous fat on anterior shins
Remember: The leper crone cooked the hissing sardines on the table in the street.
Sarcoidosis
Coccidiomycosis
Histoplasmosis
TB
Strep infections
Leprosy
Crohn's
*
Lichen planus
Pruritic, purple, polygonal planar papules and plaques
*
Wickham striae are whitish lines visible in the papules of lichen planus and other dermatoses, typically the macroscopic appearance of the histologic...
You get wickham striae with lichen planus mucosal involvement
*
Pityriasis rosea - herald patch followed days later by christmas tree distribution. Multiple plaques with collarette scale. Self resolving in 6-8 weeks.
*
Keratin pearl (2) associated with squamous cell carcinoma
*
Basal cell carcinoma - note the palisading at the margins 
*
Wickham striae - lichen planus oral version, take 2